Press release
Notorious Hants waste criminal sentenced to 30 weeks imprisonment
The Environment Agency has prosecuted a previously convicted Hampshire waste boss for a further string of offences in the county.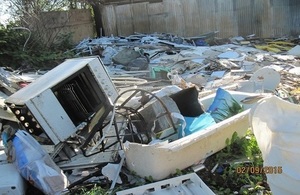 The Environment Agency, in partnership with Test Valley Borough Council, Southampton City Council and Hampshire Police, has prosecuted a previously convicted Hampshire waste boss for a further string of offences in the county.
Marcus Bairstow, 41, of Chelveston Crescent, Southampton appeared before Southampton Crown Court on Wednesday 14 September and pleaded guilty to a total of 5 offences. Mr Bairstow was sentenced to 30 weeks imprisonment and ordered to pay a victim surcharge of £150.
The judge, Miss Recorder Bussey-Jones, said Bairstow committed deliberate acts which were carried out for financial gain and were a flagrant breach of his court order.
The Court heard that Mr Bairstow was convicted in March 2011 following a major multi-agency investigation into the dumping of waste in the county. He collected waste in Southampton and took it out into the countryside to fly tip. He was convicted on numerous counts and given 2 years in prison and an Anti Social Behaviour Order (ASBO) for 5 years. The order bans him from most waste activities other than lawfully carrying waste. He was also exposed by the BBC's Rogue Traders programme which bugged and tracked waste and filmed Bairstow dumping it.
In May 2015, Bairstow began to rent a small plot of land at Park Farm, Stoneham Lane at Eastleigh. He told the owner he wanted to bring skips and sort waste on site in addition to burning it. Fires started to occur as waste accumulated until a large blaze occurred in July. Fire and police services attended and discovered that a fire on site had ignited a tree and fencing which subsequently set alight timber belonging to a builder in an adjacent unit. Bairstow attended the site and gave his details to a police officer and admitted his responsibility and that he had insurance.
Before this, in January 2015, a developer had waste on site at Padwell Road in Southampton which was collected by Bairstow. Subsequently a farmer found that entry to his land near Rownhams had been forced, and this waste had been dumped there.
Also a van belonging to Bairstow was seen in the car park of the Talking Heads public House in Portswood in February 2015. Two men, one of which was identified as Bairstow, tipped large quantity of waste from the truck as it left the car park.
Bairstow was arrested in September last year for the new offences and breach of his ASBO.
Nigel Oliver of the Environment Agency said:
We are constantly gathering information on illegal waste sites, criminal activities and environmental crime in Hampshire and across the country as a whole.

Together with our partners we are taking a zero tolerance approach against waste offenders.

In cases like this where individuals such as Mr Bairstow consistently operate illegally, we have absolutely no hesitation in prosecuting them.

Bairstow was clearly aware of his obligations and responsibilities in the handling and treatment of waste but yet again wilfully ignored them, putting the local environment at repeated risk. I hope today's ruling serves as a deterrent to any individual or company in showing that waste crime does not pay.
Published 14 September 2016