Press release
Notions of identity will be transformed in the next decade
Hyper-connectivity will have a transforming effect on how we see ourselves and others in the next decade.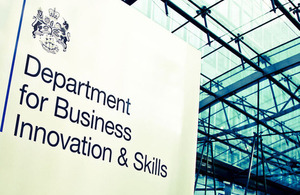 Hyper-connectivity - where people are constantly connected to social networks and streams of information - will have a transforming effect on how we see ourselves and others in the next decade, according to a new report published today by the Government's Chief Scientific Adviser Sir John Beddington.
The Foresight study 'Changing identities in the UK: the next 10 years' looks at a range of areas affected by identity including social inclusion and mobility, education and skills, crime and mental health. It shows that traditional ideas of identity will become less meaningful as boundaries between people's public and private identities disappear, with wide ramifications for policy-makers.
Professor Sir John Beddington, who led the research, said:
Identity in the UK is changing. Hyper-connectivity, the spread of social media and the increase in online personal information are key factors which will influence identity in the next decade.

These changes, set in the context of an aging population and the move to adulthood of a generation of young people immersed in a digital environment since birth will have implications for all of us.

This report provides policy-makers with a better understanding of future trends so they can use identity as a positive resource for social change and to promote well-being.
While religion, ethnicity and nationality continue to be influential aspects of identity, rapid developments in technology and social media are likely to overtake these established definitions and enable people to create more complex personas. Identities that are currently kept separate will increasingly blend together, particularly in our working and non-working lives.
The benefits of advancing communications technology on identity are highlighted. Being part of a hyper-connected society can increase the pace and turbulence of social change. Violations of identity and privacy online will continue to be an area of public concern. But identities can be a positive resource, building social capital and promoting well-being.
Increasing social plurality and the blurring of public and private identities are also emerging trends for the next decade. Further key findings in the report include:
identities can be affected by others; although people project different aspects of their identities to family, acquaintances, employers, and colleagues, they are also perceived by others in ways which they cannot wholly control (for example parents creating virtual biographies of their children in the early years)
identities can be inclusive, or act to exclude groups and individuals as identities are co-created by an individual and other people, for example by accepting someone as part of a group, or rejecting them from it
identities have personal, psychological, social and commercial value such as through the increasing collection and use of personal data which presents opportunities for social change but also for criminal exploitation or misuse
identities can be controlled to some extent by other people and companies - and though increasing numbers of people now have an online presence, others may create an online identity for you
The government needs to be agile in responding to the challenges raised by changing definitions of identity, particularly in the following areas:
equality - to avoid new forms of inequality, universal levels of access to the internet and development of computer skills are essential
social integration - the government needs to acknowledge and adapt to new forms of communities (eg virtual communities) as they emerge
police and law enforcement - the police and other organisations will need to take account of changing identities, for example the legal system will need to keep pace with developments and continue to ensure that people's identities online and offline are protected; public data will become more important for detecting patterns of criminal behaviour but the high volume of data will make location and analysis challenging
government response - the speed of modern communications is increasing public expectations that government will respond quickly to change; policy making across many different areas will need to be more agile, taking into consideration how policies might affect different groups, or individuals, at different times and places
Notes to editors
The full report 'Future identities: changing identities in the UK - the next 10 years' is available at http://www.bis.gov.uk/foresight/our-work/policy-futures/identity.
By 2011 more devices were connected to the internet than there were people in the world. This figure will be 15 billion devices by 2015.
In the UK 80% of households had internet access in 2012.
The project's Lead Expert Group was chaired by Professor Chris Hankin, Director of the Institute for Security Science and Technology. Full details of the Lead Expert Group can be found at http://www.bis.gov.uk/foresight/our-work/policy-futures/identity/lead-expert-group.
The UK government's Foresight programme helps government think systematically about the future and deliver major policy agendas by helping to ensure today's decisions are resilient to future uncertainties. It is part of the Government Office for Science which supports the Government's Chief Scientific Adviser in ensuring that the government has access to, and uses, the best science and engineering advice.
The report draws on 20 evidence reviews which were commissioned from leading UK and international experts. These are published with the main report at http://www.bis.gov.uk/foresight/our-work/policy-futures/identity.
Published 21 January 2013