Press release
Note on the implementation of the Fee-Paid Judicial Pension Scheme
Statement to inform former and current fee-paid judicial office holders what steps MOJ is taking to introduce a fee paid judicial pension scheme.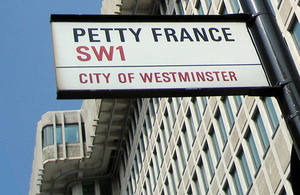 In response to the UK Supreme Court's judgment in O'Brien, the Ministry of Justice (MoJ), agreed to introduce a Fee-Paid Judicial Pension Scheme ("FPJPS"). The development of the FPJPS, including the need to test the proposals in the Employment Tribunal (ET), has taken longer than was anticipated due in part to the ongoing litigation which was only resolved last month.
The scheme will be implemented in Regulations, which will be subject to the affirmative resolution procedure, requiring the approval of both Houses of Parliament before it can become law. The MoJ has also committed to conducting a consultation on the draft Regulations prior to them being laid in Parliament. It is likely that the Regulations will not be debated until autumn 2016.
For these reasons, the planned implementation by 31 March 2016 is no longer feasible. The MoJ anticipates that the FPJPS will be implemented by 1 December 2016, subject to the outcome of the consultation and/or any ongoing litigation. The MoJ will continue to offer interim payments to eligible fee-paid judicial office holders during this period until the introduction of the FPJPS on 1 December 2016.
Interim payments in lieu of pension
If you are an eligible fee-paid judicial office holder who will retire before the introduction of the FPJPS on 1 December 2016, then you are invited to apply for an interim payment by writing to the MoJ at judicialpayclaims@justice.gsi.gov.uk indicating when you intend to retire.
The MoJ has already made a number of interim payments in lieu of pensions, pending introduction of the FPJPS. In light of the revised FPJPS timetable, the MoJ will write to all those who have already received an interim payment to offer a further interim payment to cover the period from 1 April 2016 to 31 March 2017.
This update should be read in conjunction with an earlier communication entitled Update: MoJ statement in fee-paid judicial cases, published on 17 June 2014.
Published 21 January 2016