Northwood to remain a NATO command HQ
Defence Secretary Dr Liam Fox has announced that Northwood Headquarters in Middlesex will be retained as a key NATO command HQ.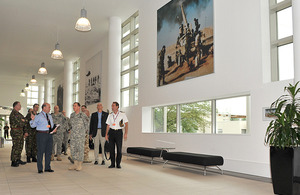 The Headquarters is a major maritime control centre tasked with directing a range of NATO operations; principally counter-piracy missions off the coast of Somalia.
Northwood was under threat of closure as NATO works to streamline its command structures to become a leaner, more flexible organisation able to meet the increasing demands placed on it.
The retention of the Headquarters ensures that NATO continues to have a command presence in the UK.
Dr Fox said:
As one of the leading contributors to NATO operations it is only right that NATO retains a command presence on British soil. Agreement on this matter was a fundamental objective for the UK Government and is a major step forward for NATO reform.
I have always maintained that NATO needs to change if it is to meet the challenges we are seeing today in Libya, Afghanistan and off the coast of Somalia.
UK forces and our allies are having success on all these operations, and streamlining the NATO command structure is essential if the Alliance is to become even more effective.
There are currently two NATO maritime command headquarters - Northwood in the UK, and Naples in Italy.
Dr Fox said:
Northwood is key to ongoing NATO operations and today's decision ensures that NATO will continue to benefit from the UK's own Permanent Joint Headquarters [PJHQ] and the Royal Navy's operational headquarters which are on the same site.
Dr Fox emphasised that the reforms are aimed at maintaining operational effectiveness while securing savings both to NATO and the UK at a time when defence budgets across the Alliance are under pressure. However, he delivered a blunt warning on the need for greater efficiencies. He said:
NATO still has work to do to get its house in order. The UK and other member states have been making tough economic decisions and it is only right that NATO does so as well. We have got to start cutting the bureaucratic fat here at NATO to ensure that our taxpayers get value for money.
Northwood was recently cited in a NATO study as one of the most efficient headquarters within the entire NATO command structure.
Published 9 June 2011