Press release
North west electrification on course to deliver boost to passenger services
The first stage in a major rail electrification programme has been completed at Eccles station.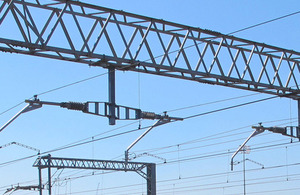 Transport Secretary Patrick McLoughlin has today (17 July 2013) visited Eccles to mark the completion of a vital first step in a £400 million electrification programme to transform rail travel across the north west.
The installation of new infrastructure between Newton Le Willows and Castlefield Junction by Network Rail paves the way for the introduction of new state-of-the-art electric trains between Manchester Airport and Scotland from December, boosting capacity and providing faster and more reliable services to passengers.
Speaking during a short ceremony to mark the completion of the work at Eccles station, one of the many set to benefit from the investment, Transport Secretary Patrick McLoughlin said:
The government is committing record amounts of investment into transforming the rail network and it is great to see this work happening right now.

Electrification of these routes will significantly improve connections between our major towns and cities, boosting the economy and providing passengers with quicker, cleaner and more frequent services.
The next major landmark in the north west electrification programme will be the introduction of electric trains between Liverpool, Newton Le Willows and Wigan from December 2014.
The electrification of the network in the north west is part of the government's 'northern hub' enhancements, which will greatly increase the capacity and capability of services running across many major cities in the North.
Notes to editors
The north west electrification programme is being delivered in 5 phases between December 2013 and December 2016:
phase 1: between Castlefield Junction and Newton Le Willows by December 2013
phase 2a: Between Liverpool and Newton Le Willows
phase 2b: Between Huyton and Wigan
phase 2c: Between Castlefiled Junction and Manchester Victoria, all by December 2014
phase 3: Preston to Blackpool, by May 2016
phase 4: Manchester Victoria to Preston (Euxton Junction), by December 2016
phase 5: Manchester Victoria to Stalybridge, Guide Bridge to Stalybridge, December 2016
The government announced a major programme of rail investment for England and Wales last year.
First TransPennine Express will start running new electric trains from Manchester to Airport to Glasgow from December 2013 onwards following delivery from Siemens. They will replace existing diesel trains. The full electric fleet is planned for introduction by Spring 2014.
Rail media enquiries
Press enquiries 020 7944 3021
Out of hours 020 7944 4292
Switchboard 0300 330 3000
Published 17 July 2013