North set to become first region in country to get new transport powers from government
Pioneering legislation will transform transport across the North of England, underlining the government's commitment to the Northern Powerhouse.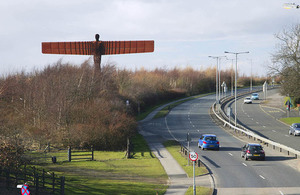 unique new powers for Transport for the North (TfN) in pioneering legislation
TfN to have an unprecedented access to transport investment decision-making across the region
government awards TfN £18.5 million to introduce smart ticketing next year
New legal powers to give the North an unprecedented say on how money is spent on transport were announced today (16 November 2017) by Transport Minister Jesse Norman.
Pioneering legislation to transform TfN into the first ever statutory sub-national transport body – with legal powers and duties – were laid in Parliament, underlining the government's commitment to the Northern Powerhouse.
TfN - backed with up to £260 million of government funding - will transform transport across the North of England, providing the infrastructure needed to drive economic growth and create jobs and boost skills. The move to put TfN on a statutory footing means that its recommendations must be formally considered by the government.
The Department for Transport also today confirmed the award of £18.5 million from a £150 million government fund for TfN's smart ticketing programme. TfN will use this to introduce paperless, smart card season tickets for Northern and TransPennine Express and Merseyrail passengers by the end of 2018.
The remaining funding is available for proposals to extend smart ticketing across public transport in the North, giving passengers more flexibility and a better integrated travel experience, including the ability to renew tickets online, fewer queues at stations and faster journeys through ticket barriers.
Transport Minister Jesse Norman said:
We are committed to the Northern Powerhouse, and to giving the great towns and cities of the North more say over transport investment through their umbrella body TfN. This government is investing the most cash for a generation in transport projects for the North. These new powers will give TfN far greater influence over national infrastructure decisions, as well the certainty they need to plan and drive forward projects such as Northern Powerhouse Rail and smart ticketing.
Northern Powerhouse Minister Jake Berry said:
We are investing a record £13 billion in transport in the North of England - more than any government in history. As part of this, TfN will be a game-changer, with powers to speak with one voice on northern transport projects and drive forward ambitious plans to improve transport connections and unlock economic growth across the Northern Powerhouse.
Independent Chair of TfN John Cridland said:
TfN gaining statutory status is an important step towards transforming the North of England and giving it the voice and powers it needs to move forward. To have the statutory instrument laid before Parliament is a tremendous achievement, having secured the support of 56 local authorities including all 19 of our constituent authorities. We look forward to continuing to work closely with our partners to transform the region's infrastructure and grow the UK economy.

Becoming a sub-national transport body means that the Secretary of State of the day will take into account the North's priorities when making transport infrastructure investment. These priorities will be developed collaboratively and we are currently working with our partners to finalise the draft strategic transport plan, which will be published for public consultation early next year. This is a 30-year transport strategy for the North that will help drive economic growth in the region and help to rebalance the UK economy - statutory status will ensure this plan is considered as a formal statutory document that can provide a solid, evidenced-based framework for transport investment in the North over the coming decades.
As part of the government's devolution agenda the North has been given real autonomy to run transport through bodies like Transport for Greater Manchester (TFGM) / Tyne and Wear Passenger Transport Executive (Nexus) in large urban areas. Local authorities, mayors and combined authorities already have responsibility for running transport in rural areas, town and cities and will continue to do so. The government is now giving TfN powers to set the strategic direction for transport in the North through their statutory transport strategy. In addition TfN, should its members agree, is able to request additional powers for consideration by the Transport Secretary.
The move means that from April, TfN will get new powers to:
produce a statutory transport strategy for the North which the government must formally consider when taking funding decisions
fund organisations to deliver transport projects, for example, this could include transport operators delivering smart ticketing in the North
work with local authorities to fund, promote and deliver road schemes - and be consulted on rail franchises in the North
take forward smart ticketing to bring in faster, easier rail travel
Rail North, an association of local authorities – including all the TfN members and Staffordshire, Nottinghamshire, Derbyshire, Lincolnshire, Nottingham and Stoke-on-Trent will also formally become part of TfN and work with government to co-manage the Northern and Transpennine Express rail franchises.
After being approved in Parliament, the legislation will be made into law by the end of the year or shortly afterwards depending on legislative time. TfN will become a statutory body on 1 April 2018.
TfN is a partnership of 19 local authorities, business leaders and 11 local enterprise partnership areas from across the North. It will help determine the top priorities for transport in the area and work with government to ensure these are taken into account in decisions made by the Transport Secretary.
The government has confirmed £150 million is available to TfN for smart ticketing, £60 million for Northern Powerhouse Rail and £50 million to run TfN, a total of up to £260 million.
Rail media enquiries
Media enquiries 0300 7777878
Switchboard 0300 330 3000
Published 16 November 2017