Press release
North East has 30% fewer adult smokers than in 2005
This figure is down from 29% to 20% according to findings presented at PHE's inaugural annual conference today (Wednesday 11 September 2013).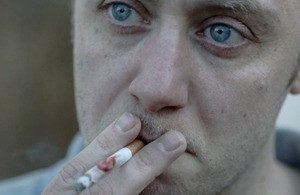 The North East achieved the biggest regional drop in smoking rates in England with 30% fewer adult smokers than in 2005 (down from 29% to 20%) thanks to Fresh Smoke Free North East and its regional partners.
Over 8 million people in England smoke and it remains the nation's biggest killer, with half of long-term smokers dying prematurely from a smoking-related disease.
In 2005, Fresh Smoke Free North East was established as a dedicated regional tobacco control programme comprising all of the North East's primary care organisations and all 12 local councils.
Ailsa Rutter, Director of Fresh said:
Partners from across the North East continue to work together to tackle the problems caused by tobacco in a comprehensive, evidence-based approach to raise awareness of the harms of smoking and benefits of stopping.

Whilst we are obviously delighted that the North East has seen the biggest fall in smoking rates anywhere in England since 2005, we still have 1 in 5 adults addicted to this deadly product. This means over 4,000 people are dying prematurely every year in the North East alone due to tobacco. We must do more to continue to make smoking less attractive, less affordable and less available, and we support Stoptober as a way of encouraging smokers to take positive action to improve their health.
Professor Kevin Fenton, Director of Health and Wellbeing at Public Health England (PHE) said:
It is good to see such a successful drop in smoking rates in the North East and we look forward to further reductions.

PHE hopes to boost people's confidence to stop smoking through our forthcoming campaign Stoptober, which is England and Wales's mass 28-day stop smoking challenge. Campaigns such as Stoptober, along with the support provided by local stop smoking services, play a huge role in helping people to stop. Non-smoking is the norm now and in some areas such as the North East, the number of people who do not smoke is increasing rapidly, however in some areas this increase is not as noticeable. Smoking is still the biggest cause of premature death with more than 80,000 deaths in England every year.
Ends
Notes to Editors
Public Health England's mission is to protect and improve the nation's health and to address inequalities through working with national and local government, the NHS, industry and the voluntary and community sector. PHE is an operationally autonomous executive agency of the Department of Health. www.gov.uk/phe Follow us on Twitter @PHE_uk

Public Health England's Annual Conference is being held at the University of Warwick from 10 to 11 September 2013. For more information visit the PHE conference website and follow the conference on Twitter with the hashtag #PHE2013

Stoptober 2013 starts on Tuesday 1 October and runs for 28 days. For more information and to join the biggest stop smoking challenge of its kind, search 'Stoptober' online. During 2012's Stoptober campaign, a staggering £25 million was saved by 160,000 people who stopped buying cigarettes. Someone who quits smoking for Stoptober, and doesn't smoke again, could gain an extra 7 days of life, every 28 days, for the rest of their life.
Press office
Email phe-pressoffice@phe.gov.uk
Contact form https://www.gov.uk/gov...
Corporate and health and wellbeing press office 020 7654 8400
Infectious diseases press office 020 8327 7901
Chemicals, radiation and environmental hazards press office 01235 825405/406
Out of hours 020 8200 4400
Only for use by journalists and the media
Published 11 September 2013