Press release
Non-Executive Director appointments to the Water Services Regulation Authority (Ofwat) Board
Two new non-executive directors, Wendy Barnes and Robin Paynter Bryant, have been appointed to the Water Services Regulation Authority (Ofwat) Board.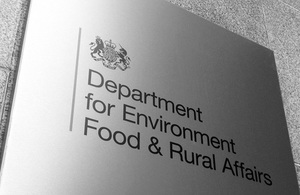 Both appointments are based on a time commitment of two days per month and receive a remuneration rate of £10,680 per annum.
Wendy Barnes' appointment runs from 7 February 2012, for four years until 6 February 2016 and has the option of a one year extension.
Robin Paynter Bryant's appointment runs from 24 January 2012, for four years until 23 January 2016 and has the option of a one year extension.
Biographies
Wendy Barnes has held several executive positions in her 24 year experience in the nuclear and water industries.  Starting as a professional statistician, Wendy then moved in to the area of customer service, marketing and business development.  She was also responsible for leading several large change programmes.  Since leaving corporate life in 2003 Wendy has held several non-executive director positions in government security and defence departments as well as running her own coaching and consultancy company.  Wendy is currently chief operating officer at the Department of Energy and Climate Change and a non executive director at FCO Services, a trading fund of the Foreign and Commonwealth Office.  Wendy is also an executive coach and mentor and on the Finance Committee at Chester Cathedral.
Robin Paynter Bryant has held several executive positions during his career in finance including work on asset, liability and treasury risk management for utilities and large companies.  Robin also undertook corporate finance, M&A strategic advisory, IPO and specialist debt financing work on behalf of international customers.  Robin has advised inter alia the Italian State Railways on the establishment and public and private sector financing of TAV SpA, the new Italian national TGV network.  Robin also has international multi-utility experience in Electricity, Oil & Gas and Water, and has served as a Non-Executive Director in the private sector and advised a Government Department on its strategic and financial options for its private equity partnership
Notes
Ofwat is the independent economic regulator of the water and sewerage sector in England and Wales.  Its main responsibility is to make sure that the companies provide households and business consumers with a quality service and value for money and to enable efficient companies to finance their functions.  For more information go to:  www.ofwat.gov.uk
These appointments to the Ofwat Board are covered by the Commissioner for Public Appointments and are conducted within the principles of the Commissioner's Code of Practice.
All appointments are made on merit and political activity plays no part in the selection process.  However, in accordance with the original Nolan recommendations, there is a requirement for appointees' political activity (if any declared) to be made public.  Both Wendy and Robin completed political activity questionnaires as part of the recruitment process and neither declared any political activity.
Published 22 February 2012