Press release
Noises off – Cable says Britain is open for business
Cable visits India to spread the message 'Britain is open for Business' and dispel the myth that the UK isn't welcoming to Indian students.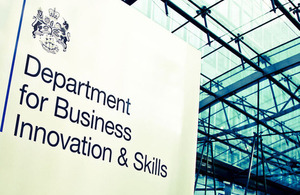 Business Secretary will announce new measures to tackle falling Indian student numbers and encourage business investment in the UK
Indian company Amtek Auto will invest £23 million in a new foundry in Kidderminster creating 500 new UK jobs
Vince Cable is in India today (10 October 2014) on a week-long visit to dispel myths that the UK is not welcoming to Indian students and spread the message that 'Britain is open for Business'.
International students are worth around £3 billion a year to UK universities and bring skills critical to the British economy, however in recent years there has been a significant decline in the number of Indian undergraduates and postgraduates who choose to study in the UK.
In a speech to the Federation of Indian Chambers of Commerce and Industry in Delhi, Business Secretary Vince Cable will highlight the valuable contribution Indian students make by studying at UK universities.
Dr Cable said:
From Indira Gandhi - India's first woman Prime Minister - to Olympic Park sculptor Anish Kapoor, UK universities have produced some of India's most eminent and talented graduates and I want that legacy to continue. With no limits on overseas student numbers and scholarships like the GREAT awards, the doors are open to Indian students to benefit from our world-class universities.

This is not a short-term offer. There is huge demand from UK employers for the high level skills Indian graduates can offer, and students that gain graduate-level employment can stay here after completing their studies.
In Delhi Vince Cable will announce measures to encourage more Indian students to come to the UK:
the largest ever number of scholarships for Indian students through the GREAT Scholarships programme. The 2015 intake will offer 396 new scholarships at 57 institutions across the UK to study a variety of under-graduate and post-graduate courses such as engineering and IT
the opening of the Education UK Alumni Awards which will reward Indian alumni of UK institutions that have made a significant impact upon their return to India with an expenses-paid study trip to the UK linked to their current profession
He will also announce a total £33 million investment in projects that will bolster the UK's business relationship with India. These include:
Indian company Amtek Auto investing in a new foundry in Kidderminster to meet the growing need for automotive parts from Jaguar Land Rover and Ford, and grow their manufacturing presence beyond existing UK facilities in Coventry and Essex. The initial investment of £23 million will lead to 500 new jobs by 2018
British dental company, Prima Dental, is investing £10 million in India to establish a sales and distribution arm in the north of the country. Prima Asia will supply burs to the dental profession across India and the subcontinent
UK Tech company, Blippar, is launching India Blippar. Blippar is a leader in augmented reality, enabling consumers to bring to life images and products via smartphones and wearables and are opening their first Asia office in Delhi
Dr Cable said:
Britain and India have long enjoyed a strong, collaborative business relationship - demonstrated by the fact that we are their largest investor in the G20 accounting for around 30% of their annual investment - while India invests more into the UK than any other country.

The government's industrial strategy is giving business the confidence to increase investment - creating more high skilled, long term jobs in the UK. So I am pleased that Amtek is the latest Indian company to increase investment into the UK, creating 500 new jobs in Kidderminster.

Amtek Auto has benefited from the Jaguar Land Rover success story, which thanks to Indian investment has created an extra 11,000 new jobs over the last 3 years.
Vince Cable will also address approximately 300 students at leading technology and sciences institute, BITS Pilani's K.K Birla Campus in Goa – as well as students at its Hyderabad and Delhi campuses via video link.
A delegation of leading UK universities and tech companies will accompany Vince Cable on the visit. These include:
MIRA Technology, advanced engineering technologies consultancy, Warwickshire
Delcam, developer and supplier of CADCAM software for three-dimensional design, Birmingham
Peel Ports, Liverpool
The Design Council, London
King's College London.
The UK is also keen to promote mobility from the UK to India by encouraging more UK students to study in India. During a visit to India in August 2014, Deputy Prime Minister Nick Clegg announced the Generation UK-India Programme to support up to 25,000 UK students to study in India over the next 5 years. Vince Cable will re-confirm this ambition ahead of the Programme's launch in November 2014.
Vince Cable will begin his visit in Delhi before moving on to Goa, Pune and Chennai – meeting ministers and Indian and UK businesses in each location.
In Delhi, Vince Cable will visit catalyst manufacturer Johnson Matthey's state-of-the-art facility to witness the production of the 25 millionth catalytic converter developed in India by the UK operation.
In Goa he will meet with the British Business Group and local Indian business leaders to encourage relations between the UK and Goa.
The Chennai leg of the tour will include a visit to the Ashok Leyland factory. The facility employs 5,000 members of staff and is the flagship operation of UK-based Hinduja Group, which is the fourth largest bus maker in the world.
Whilst in Chennai, the Minister will launch a new Centre for SME Research & Development which flows from a UKIERI project. The minister will also meet the Vice Chancellor, students and faculty of Anna University, which has strong and growing research links with UK institutions.
Notes to editors
1.The UK-India relationship is a genuinely 2-way relationship of vital importance to both countries. Key facts:
UK trade with India is growing. We have boosted trade from £11 billion in 2009 to £16.4 billion in 2013, despite economic slowdown in both countries over this period
UK companies invest heavily in India. UK is the largest G20 investor in India: the UK invested $20.7 billion between 2000 and 2014, and $3.2 billion last year, more than Japan and the US (2nd and 3rd) combined
India invests in the UK: £240 million new Indian investment in 2012, and a stock of £2.1 billion (Russia £1.2, China £1.1 billion), and more than India invests in the rest of the EU combined
Indian investment in the UK creates jobs: in 2013, the UK attracted 74 new projects from India, generating 4,482 jobs. Tata is the largest employer in UK manufacturing with 45,000 staff
Published 10 October 2014