World news story
No-one, not even the king, is above the law - British Ambassador Davidson promotes Magna Carta's principles in Honduras
The British Ambassador to Honduras, Carolyn Davidson, conducted a series of activities in Tegucigalpa dedicated to the principle that "no one is above the law".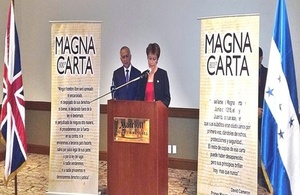 In 2015, the UK celebrates 800 years since the sealing of the Magna Carta – the document described as England's greatest export. Events are taking place around the UK and the world, including Honduras, to celebrate this anniversary.
Amongst the activities, the British Embassy held an exhibition of Magna Carta materials at the National University of Honduras (UNAH), which also included information about the prestigious UK scholarships programme Chevening. The UNAH also hosted a forum that discussed the legacy of Magna Carta and its applicability today. Finally, Ambassador Davidson hosted her first reception at a local hotel with key contacts from the political, judicial economic sectors to celebrate the 800th anniversary of the Magna Carta and its principles.
Ambassador Davidson's visit follows her presentation of credentials to President Juan Orlando Hernandez the week before. During her second visit in a month to Tegucigalpa, she also met representatives of government, the private sector and civil society to discuss a wide range of policy issues, from exploring the benefits of Public Private Partnerships, to working together with Government and civil society to boost the transparency agenda that people demand and supporting efforts to reduce violence against women.
To mark this special visit, British Ambassador to Honduras, Carolyn Davidson, said:
The Magna Carta may have been sealed 800 years ago but the ideas and principles it gave rise to – the importance of the rule of law and individual liberty– form the basis of all democracies today. The discussion at UNAH highlighted the relevance of these themes in Honduras today. I'm glad that Honduras recognizes the crucial role that the rule of law plays in delivering security and prosperity to all, and the UK stands ready to continue our cooperation with Honduras to strengthen the country's approach to tackling corruption and impunity.
Published 26 November 2015