No more paper counterpart to the photocard driving licence will save the taxpayer millions each year
From today (8 June 2015), the paper counterpart to the photocard driving licence is being replaced by an online service.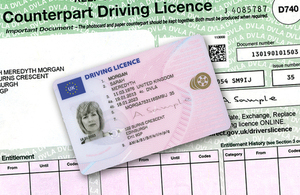 This will save motorists millions of pounds and change the way they share their information with employers and car hire companies.
Last year DVLA had to replace around 445,000 counterparts because drivers had lost them, for which they were charged £20 each to cover the cost.
Transport Minister Lord Ahmad of Wimbledon said:
Replacing the counterpart with an online service will save motorists money and reduce unnecessary red tape.

It will also benefit employers and vehicle hire companies. Relying on the counterpart meant relying on a potentially out of date piece of paper. Now, when the driver chooses to share it, those organisations will be able to see completely accurate information direct from DVLA's records. This will reduce their risk and improve road safety.

The paper counterpart includes information on a driver's penalty points along with details of what vehicles they can drive. Drivers still need to keep their actual driving licence, whether it is a plastic photocard licence or an old style paper licence which was issued before 31 March 2000.
Explaining the new system Oliver Morley, Chief Executive of DVLA, said:
It's very easy to view and share your driving record. Just go to GOV.UK and search for 'view driving licence'. You can view your information electronically and generate a check code which you can then share with people who need to see your details (such as an employer or car hire company). If you want to, you can also download and print a summary.
More information on all the changes can be found on GOV.UK – search for 'no more counterpart'.
Notes to editors
There are 46.4 million licence holders in Great Britain.
37.7 million licence holders have a photocard driving licence.
8.7 million licence holders have an old style paper licence that was issued before 31 March 2000 - these licences remain valid.
Drivers can view their driving licence information online and generate a check code to share details with third parties at www.gov.uk/view-driving-licence.
Third parties can redeem the check code at www.gov.uk/check-driving-licence.
The changes apply to GB driving licences only. Driver licensing is a devolved issue in Northern Ireland.
Press enquiries
Press office
DVLA Press Office
Longview Road
Morriston
Swansea
SA6 7JL
Published 8 June 2015