Nine Australasian tech innovators win UK Tech Rocketship Awards
Interest in the UK as a place for Aussie and Kiwi tech companies to grow is at an all-time high with 200 vying for the inaugural UK Tech Rocketship Awards.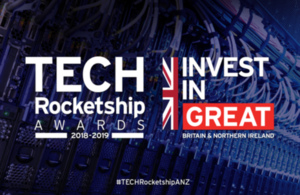 Today, the UK Department for International Trade (DIT) has announced nine leading Australasian technology companies as the winners.
The competition was open to established scale-ups founded on innovative technology-led solutions, across a wide range of industries who are ready to go global.
The winners for each category are:
The 9 winning companies beat a competitive field of 197 entries to secure a highly sought-after place on the Tech Rocketship programme.
Each will receive a paid trip to the UK in February 2019 where they will participate in a series of meetings, networking events and workshops aimed at supercharging their expansion plans.
The Tech Rocketship Award categories aim to support the UK's innovation priorities, including technologies to tackle the first 4 'Grand Challenges' in the UK's Industrial Strategy – Artificial Intelligence and Data, an Ageing Society, Clean Growth and the Future of Mobility.
Michael Ward, British Consul General and Director General, Department for International Trade (DIT), Australia and New Zealand said:
I am absolutely delighted at the response to our Tech Rocketship Awards and the exceptionally high calibre of entries. It is fantastic to see so many innovative Australian and New Zealand companies delivering leading-edge technologies.

I'd like to congratulate the nine winners - a stand-out cohort – on being selected. This is an invaluable opportunity to gain access to the fifth largest economy in the world and a thriving tech community and we are excited to welcome them to the UK in the New Year.

I'd also like to encourage all our Tech Rocketship applicants to stay in touch. Our DIT team, across Australia and New Zealand, are here to support all companies seeking to set-up operations in the UK, providing guidance, access to expert advice and networks, and we very much look forward to assisting you on your journey."
The UK Tech Rocketship Awards are generously sponsored by the Australian British Chamber of Commerce and Grant Thornton – two organisations committed to building trade and investment between the UK and Australasia.
David McCredie, CEO of the Australian British Chamber of Commerce said:
The Australian British Chamber of Commerce is delighted to be supporting the UK Tech Rocketship Awards. The winners we have helped choose are fantastic representatives of some of the most innovative and disruptive technologies coming out of Australasia at the moment.

Australia and the UK already enjoy a close alliance in the sharing of ideas and best practices in technology. We are confident that the programme will be a great opportunity on both the delegates and hosts' sides to explore progressing these technologies internationally. We wish them all the best.
Holly Stiles, Partner – Corporate Finance, at Grant Thornton said:
We have seen many clients benefit from expansion into the UK; a thriving destination for technology companies looking to get a firm foothold in the global market. The winners announced today represent a broad selection of the leading technology Australasia has to offer, with solutions and products that have a positive impact on business and communities. We look forward to assisting the winners and other applicants to scale-up and access the outstanding commercial opportunities available through global connections.
The UK Tech Rocketship Awards were announced in September by UK Investment Minister, Graham Stuart on his visit to Australia and New Zealand.
A series of workshops with Grant Thornton and the ABCC, across major capital cities in November, championed the awards and gave attendees insights into the burgeoning UK tech eco-system, including tips from those who have already found success in the UK.
Joining the winning cohort in London will be rising AI tech star, Daisee, whose recent 'Tech 23 Award', supported by DIT and the British Chamber, also provides for Founder Richard Kimber to join the Tech Rocketship programme.
Background
About the Tech Rocketship Awards:
About the UK tech sector
The sector:
is worth nearly £184 billion to the UK economy
is growing 2.6 times faster than the wider UK economy
is made up of over 223,000 tech companies
includes London, the second most connected tech ecosystem on the planet
contributes 13 of Europe's 34 unicorns, worth 37% or $23 billion in value
is a global leader in digital tech investment - £3.3 billion in 2016 over 2645 deals (a 3-fold increase over a 4-year period), and more VC than the rest of Europe combined
hosts 3,527 tech meetups
employs 2.1 million people in its digital tech economy
Source: UK Tech Nation report
About the UK Department for International Trade:
The UK's Department for International Trade (DIT) is responsible for promoting UK trade across the world and attracting foreign investment to our economy. We are a specialised government department with responsibility for negotiating international trade policy, supporting business as well as delivering an outward-looking trade diplomacy strategy.
You can follow us on twitter in Australia @tradegovukAUS and in New Zealand @tradegovukNZL
Media Contact
Bailee Dean
Communications Officer
UK Department for International Trade
British Consulate-General, Sydney
Tel: +61 (0)2 8247 2220
Mobile: +61 (0)409 767 775
Published 5 December 2018