World news story
UK Tech Rocketship Awards take off in Australia and New Zealand
The UK's Tech Rocketship Awards offer Australian and New Zealand technology scale-ups a new launch-pad for their global expansion.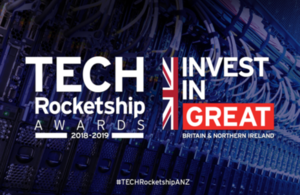 On the hunt for successful Australasian technology scale-ups, the UK Department for International Trade (DIT) has launched its Tech Rocketship Awards in Australia and New Zealand.
The Tech Rocketship Awards are open to established Australian and New Zealand scale-ups who offer innovative, technology-led solutions across a wide spectrum of industries and are ready to internationalise.
The awards will help 8 winners gain exposure, expand their global networks and expedite the set-up of their UK operations through a paid-for, curated trip to the UK in early 2019.
So far, over 40 companies have participated in the UK's Tech Rocketship programme, but this is the first time the awards have been open to Australian and New Zealand businesses. The programme is supported by partners, the Australian British Chamber of Commerce and Grant Thornton.
Michael Ward, British Consul General and Director-General, UK Department for International Trade, Australia and New Zealand said:
The UK tech sector is going from strength to strength, growing 2.6 times faster than the wider economy. The UK is the fifth largest economy in the world - and with 65 million potential consumers, a deep tech ecosystem, an extraordinary talent base and a supportive business environment, it's the perfect place for determined, ambitious tech companies to scale globally.

With support from our teams on the ground in Melbourne, Sydney, Auckland and Brisbane, we're already seeing a strong increase in the number of innovative Australian and New Zealand tech-led companies achieving real success in the UK.
Tech Rocketship is an excellent platform for companies to supercharge their UK expansion plans and I encourage those Australasian tech companies with genuinely global ambitions to apply now.
The Tech Rocketship Award categories in Australasia are:
Economy and Digital Security
Tech for an Ageing Society (Life Sciences)
The AI and Data Revolution
The Future of Mobility
Clean Growth (Cleantech)
Feeding the Nation (Agritech)
Connected Consumers and Creativity
GREAT Tech for Change Award
DIT will run a series of workshops in November to provide prospective applicants and those interested in expanding to the UK:
an update on the thriving UK tech ecosystem
insights from companies who have successfully expanded to the UK
information on the Tech Rocketship Awards and how you could win a place
You can register for the workshops at the links below:
David McCredie, CEO of the Australian British Chamber of Commerce said:
The Australian British Chamber of Commerce is delighted to support this UK Department for International Trade initiative. This award programme is further evidence of the strong relationship between the UK and Australia and New Zealand, particularly in the tech sector which continues to drive opportunity and success for our Members and the broader relationship. We look forward to supporting the participants on their journey to the UK.
Holly Stiles, Partner, Grant Thornton said:
At Grant Thornton we understand the challenges technology and fintech companies face when expanding rapidly. Support is needed in many areas including systems, compliance, tax structure and funding, so access to the best advice is critical. We're delighted to work with DIT to support and enable that growth in Australia, New Zealand and globally.
The Tech Rocketship Awards are open for submissions until 26 November 2018. Full details about the competition, including terms and conditions are on the Tech Rocketship Awards website. Winners will be announced in December 2018.
Ends
Background
Find out more about the awards.
About the UK tech Sector
The UK technology sector:
is worth nearly £184 billion to the UK economy
is growing 2.6 times faster than the wider UK economy
is made up of over 223,000 tech companies
includes London, the second most connected tech ecosystem on the planet
contributes 13 of Europe's 34 unicorns, worth 37% or $23 billion in value
is a global leader in digital tech investment - £3.3 billion in 2016 over 2645 deals (3-fold increase over a 4 year period)
hosts 3,527 tech meetups
employs 2.1 million people in its digital tech economy
Source: UK Tech Nation report
Media enquiries
Annie Galea
Head of Communications
UK Department for International Trade
British Consulate General, Sydney
(02) 8247 2274
0407 190 867
Published 3 September 2018
Last updated 5 November 2018
+ show all updates
"We have added information about our Tech Rocketship Awards Workshops which will be held in major Australian cities during November and we have extended the closing date for submissions to Monday 26 November."
First published.