Nigeria's democratic step forward
Minister for Africa Henry Bellingham congratulated chair of the Nigerian Independent National Electoral Commission on conduct of Nigeria's April election.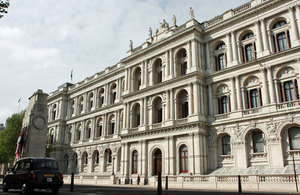 During their meeting on 16 May the Foreign Office Minister said that despite some localised irregularities, these were a step forward for Nigeria; they have been described by domestic and international observers as the most credible since Nigeria's return to civilian rule in 1999.
He also expressed his condolences over the deaths of INEC and National Youth Service Corps volunteers, noting the UK's admiration for their bravery and determination to serve their country.
Professor Jega thanked the Minister for the UK's support to the election process, and explained his plans to strengthen INEC, building on the foundation of last month's elections. He stressed INEC's commitment to openness and transparency, including fully addressing all allegations of misconduct.
The Minister for Africa reiterated the UK's support for Nigeria as it continues to build its democratic institutions, through the British High Commission in Abuja and the Department for International Development.
Published 17 May 2011