"Nigeria can set an example of transparency, credibility and dignified, peaceful democracy"
Minister for Africa Henry Bellingham said that events over the course of the next month in Nigeria will have huge significance for Africa.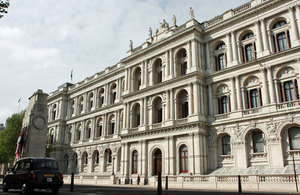 In an article ahead elections in Nigeria the Foreign Office Minister for Africa said:
"It is now more than a month since I made my first visit to Nigeria as Britain's Minister for Africa. In that short time, the world has changed dramatically, as events in the Middle East have unfolded.
It is almost 12 years since Nigeria witnessed a smooth transition to civilian government. And new elections in Nigeria are now upon us. In a year where national-level elections will take place in 20 countries across the African continent, the events over the course of the next month in Nigeria will have huge significance for Africa, the region and globally.
Nigeria can set an example of transparency, credibility and dignified, peaceful democracy. The international community would welcome leadership from Africa's most populous nation.
The signing of a code of conduct for the election campaign demonstrates good intentions, and we trust that the actions of political parties will match their words. Recent weeks have seen continuing political violence. We need Nigeria's leaders to demonstrate political will and draw a line under the practices of manipulation, violence and hate-speech that have marred previous election campaigns. I call on them to do so: the argument must be won through the strength of ideas, not by force, vitriol, or intimidation. Nigerian politicians - like their counterparts around the world - have a responsibility to allow the electorate to exercise their democratic rights freely and securely.
In recent weeks, I have witnessed Nigeria standing strong internationally. Within West Africa, Nigeria has been central to ECOWAS' efforts to secure a democratic outcome in Cote d'Ivoire. On the broader international stage, Nigeria, now in its final year as an elected member of the UN Security Council, has played a leading role among African states in discussions in New York.
Nigeria's economic reforms will pave the way to greater economic and commercial developments. This week I spoke at a UK Government sponsored event at Arsenal Football Club's Emirates Stadium in London, where I encouraged British firms to "Make Nigeria their Goal". I spoke about how democratic, transparent government can provide the environment for business to flourish. The business world, as well as the broader international community, will be watching these elections, hoping to see Nigeria show the way forward. These are just a few examples of where Nigeria is leading the charge in Africa.
There are encouraging signs that Nigeria will grasp the chance to be at the forefront of democracy on African soil. Renewing the systems, and building public confidence in them, in order to hold a democratic election within a short time-frame is no small task. But it is one that Professor Attahiru Jega and the Independent Nigerian Electoral Commission are going about with dedication, diligence and perception. Creating a new voters' register of 73 million has been an incredible feat, as has been the training of many thousands of staff, and ensuring co-ordination between security agencies so that Nigerians can feel free to cast their vote without intimidation. The elections themselves will be a stiff test for INEC. I wish them every success in the pursuit of bringing free, fair and credible elections to Nigeria.
Of course, the challenge of good governance does not start and stop at the elections. Strong, effective and democratic institutions are not built in a day. The UK will continue to be here to help Nigeria meet that challenge, in partnership with whichever government Nigerians elect through a credible process. That is a choice for Nigerians, and Nigerians alone to make.
Finally, to Nigeria's leaders - its politicians, elders, traditional and religious figures, I have just one message: it is your duty to your people to embrace this chance to place Nigeria as the champion of African democracy. And to Nigeria's electorate; 73 million of you have registered to vote: it is your duty to your children and future generations to seize this opportunity and use your vote to choose leadership that presents the best vision for the future of Nigeria."
Published 1 April 2011