Press release
Nicky Morgan urges employers to tackle the gender pay gap
New statistics out today show the gender pay gap remains static at 19.2 per cent.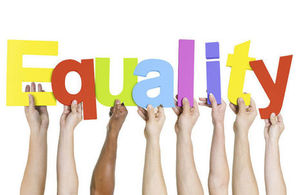 The gender pay gap remains at 19.2 per cent, according to new statistics released today by the Office for National Statistics, unchanged since last year and still the lowest since records began.
The figures – which show the differences between men and women's average earnings – underline the important work this government is doing to eliminate the gender pay gap. The figures show that:
the overall UK pay gap for full and part time employees remains at 19.2 per cent
hourly earnings increased for both men and women by 1.4 per cent between 2014 and 2015
the gender pay gap remains virtually eliminated for women under 40 and has decreased for all women over 40 in full-time employment
in England, the gender pay gap is the highest in the South East at 22 per cent and lowest in London at 16.3 per cent.
These figures come just after the Prime Minister and the Minister for Women and Equalities, Nicky Morgan, announced a series of bold measures to tackle gender inequality, pledging to "end the gender pay gap in a generation."
Minister for Women and Equalities, Nicky Morgan, said:
We have been clear that you can't have true opportunity without equality and that's why eliminating the gender pay gap is a key priority for this government.

These figures confirm the need for us to drive forward change. That's why we are working with business to ensure all large employers publish gender pay gap information, including bonuses. And most importantly we'll tackle the underlying causes of the gender pay gap - we will ensure that women are given the support they need to progress from the classroom right through to the boardroom.
To ensure true equality the Government has pledged to:
force larger employers to publish information about their bonuses for men and women as part of their gender pay gap reporting
extend our plans for gender pay gap reporting beyond private and voluntary sector employers to include the public sector
work with business to have 33 per cent of women on boards by 2020 and eliminate all-male boards in the FTSE 350
The Government also wants to see further progress in the number of women making it to senior executive and executive director roles across all sectors.
That is why we have made changes to modernise the workplace and develop the female executive pipeline. We have:
extended the right to request flexible working to all employees
introduced a new system of flexible parental leave
committed to providing 30 hours of free childcare a week for working families with 3 and 4 year old children
supported women's enterprise by helping female entrepreneurs start up and grow their own business – the UK is now ranked as the best place in Europe to start a business
supported research looking at the vast talent pool of women in board roles outside the private sector (e.g. charity sector and higher education)
and, nearly two-thirds of the people benefitting from the National Living Wage will be women
Notes to Editors:
The statistics can be found on the ONS website
For more information contact the GEO Press Office.
Published 18 November 2015