Nick Clegg raises trade and human rights in Kazakhstan
The Deputy Prime Minister, Rt Hon Nick Clegg MP, attending the OSCE summit in Astana, took the opportunity to address trade and human rights issues in Kazakhstan.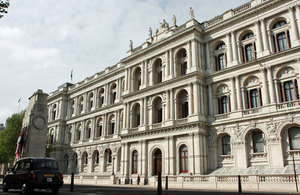 On Thursday evening Mr Clegg met with representatives of major UK companies in Kazakhstan, including BG Group and Shell, to hear their perspective on trading in the country, and on Friday he met with representatives of Kazakh NGOs as well as opposition party leaders. He discussed these and other issues at his summit meeting with President Nursultan Nazarbayev of Kazakhstan.
The Deputy Prime Minister said:
"Kazakhstan and the rest of central Asia offer huge opportunities for UK businesses. It was good to get the perspective of British firms and learn what more the UK government can do to help them. I directly raised their concerns about the need for a stable and transparent tax and regulatory framework with President Nazarbayev.
"The UK government is equally committed to improved human rights across central Asia. Kazakhstan has made important reforms in this area which need to be recognised. As I said to President Nazarbayev, we hope to see those reforms go further and faster, something that would also create the best climate for business and stability."
Published 2 December 2010