Press release
Nick Clegg holds first Mental Health Taskforce meeting
Members of the Deputy Prime Minister's Mental Health Taskforce met for the first time today to look at 3 priority mental health areas.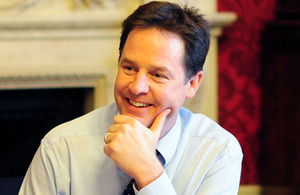 Welfare and employment, the criminal justice system and services for children and young people were the focus of the first meeting of the Deputy Prime Minister's Mental Health Taskforce this afternoon with ministers from across the coalition.
Chaired by the Deputy Prime Minister, the meeting was attended by senior ministers including Jeremy Hunt, Iain Duncan Smith and Danny Alexander, to examine urgently how to improve mental health services.
They discussed what more could be done in these 3 areas to make further improvements, and will meet again in the new year to discuss specific proposals.
The Deputy Prime Minister has a long track record campaigning to bring treatment for mental health problems out of the shadows and in line with physical health.
In government he has helped build a strong foundation for the improvement of mental health services, securing:
Deputy Prime Minister Nick Clegg said:
Millions of people suffer every day with mental health problems but many are simply not getting the treatment and support they need to get on in life.

I've been pushing hard in government to transform mental health services, securing millions of pounds of investment to help create a fairer society where people get the help they need, when they need it.

But we need to go further and faster and that's why I've set up this dedicated taskforce. This is a major leap forward for mental health where ministers from across government are working together to give people the help and support they need wherever they might need it - at school, at work, or in the NHS.
The meeting comes just days after the Deputy Prime Minister announced a £12 million investment to trial new ways of working to help people with mental health problems stay in work and get back into work after a period of absence.
It followed a major new report from mental health charity Mind which called for more intensive support in this area with nearly half (46%) of people claiming Employment and Support Allowance suffering with mental health conditions.
The estimated cost of mental ill-health to the economy is £70 billion a year, equivalent to 4.5% of GDP, through lost productivity, social benefits and health care.
New pilots
The pilots will involve:
key workers and individual support packages to help claimants create bespoke action plans and coordinate existing local support services
support for new employees to make sure they can stay in work and cope with anxiety and other ongoing problems
training for employment advisers to identify mental health problems and for GPs to recognise the importance of work in improving mental health
The 4 pilot areas, secured as part of Growth Deals agreements, will measure the impact of integrated services for between 2,000 and 3,000 people.
The £12 million investment includes £6 million from the Department for Communities & Local Government and £6 million match-funding from pilot areas. It builds on £3 million already invested by the government to help people with mental health problems who are unemployed back into work through:
employment support and talking therapies programmes
support with job seeking through group work
telephone-based psychological wellbeing and employment-related support
exploring options for online support
Read more about the new pilots announced yesterday (15 December 2014).
Health Minister Norman Lamb will later this week announce an overhaul of mental health laws to put an end to mentally ill teenagers being taken to police stations and detained in cells.
Mental health: top stats
1 in 4 people in the UK will experience a mental health problem each year
3 children in every classroom have a diagnosable mental health condition
only a quarter of people with a common mental health problem get treatment, mostly in the form of medication
2.3 million people with a mental health condition are out of work, and mental health conditions are the primary reason for claiming health related benefits
the OECD (Organisation for Economic Co-operation and Development) estimated that mental ill-health costs the economy an estimated £70 billion a year, equivalent to 4.5% of GDP, through lost productivity, social benefits and health care
the most common mental health problem is depression, which is experienced by 8 to 12% of the population
Published 16 December 2014