Nick Clegg announces 1.55 million more children to receive a free school meal
An estimated 1.55 million additional infants across the country will benefit from a free school meal from September 2014.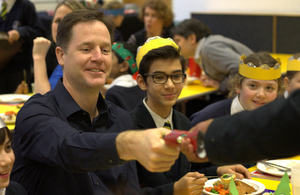 Every child in reception, years 1 and 2 in state-funded schools will be able to sit down to a free school lunch, saving parents who currently pay for a school lunch over £400 a year per child.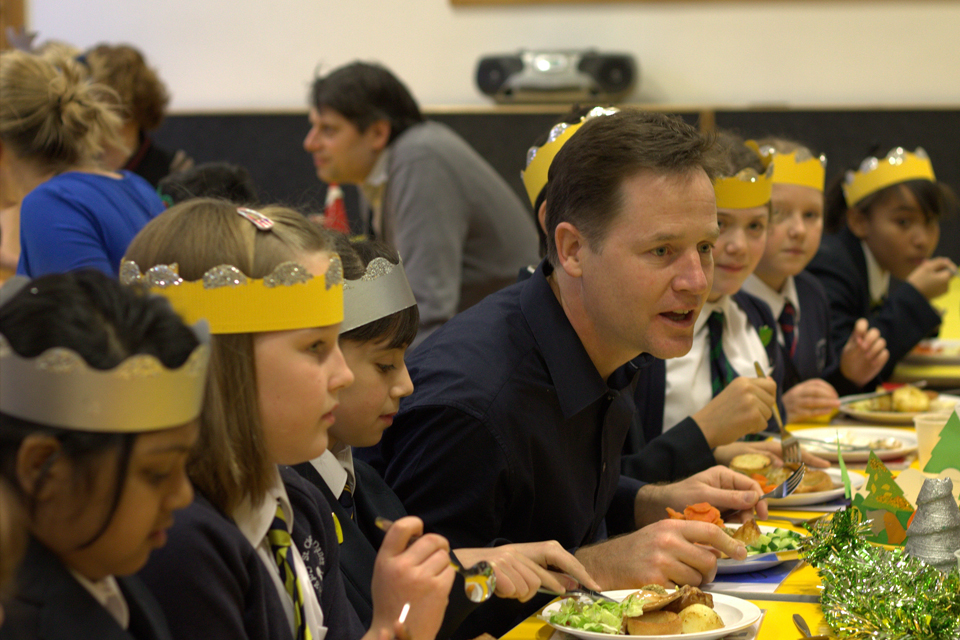 Deputy Prime Minister Nick Clegg said:
Every child deserves the best possible start in life, and making free school meals available for an estimated 1.55 million more infants means children won't miss out on getting a healthy meal during the day.

Evidence shows that where children have been given a free school dinner, students were academically months ahead of their peers elsewhere and more likely to eat vegetables at lunchtime instead of less healthy food like crisps.

Parents can fork out around £400 for school lunches for each child every year. We want to do all we can to help ease the pressure on household budgets, and free school meals can help put money back in the pockets of these families.
Evidence shows that performance in class improved if a healthy meal is eaten at lunchtime:
students were found to be on average 2 months ahead of their peers elsewhere
the universal entitlement pilot led to around a 2 percentage point increase in children reaching target levels in maths and English at Key Stage 1; while at Key Stage 2 the impact on achievement was a 4 percentage point increase for English and 5.5 percentage points for maths
academic improvements were most marked among children from less affluent families
there was a 26 percentage point increase in the number of children eating vegetables at lunch and an 18 percentage point drop in those eating crisps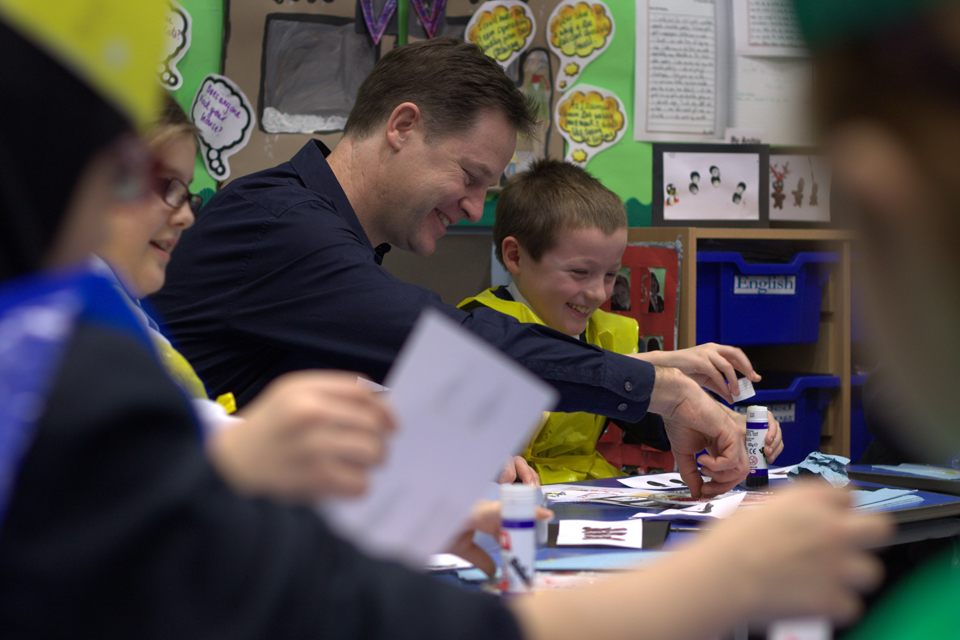 To ensure schools have the capacity to provide the extra meals the government is providing £150 million to help schools expand their kitchen and dining facilities, where needed.
The funding will be delivered through local authorities for maintained schools, based on the number of infant pupils they have. The portion for academies will be delivered through the Academies Capital Maintenance Fund, again based on numbers of infant pupils, to which academies may bid for improvement works.
The number of all children currently eligible to receive a free school meal is 1.3 million, of which 367,000 infants are currently eligible. From September 2014, 1.55 million more infants will be able to benefit from a free school meal.
Each local authority will decide how best to target its share of the £150 million for expanding and improving facilities at individual schools in order to deliver the universal entitlement.
DfE media enquiries
Central newsdesk - for journalists 020 7783 8300
Published 18 December 2013