News story
NI talks timeline of announcements
A Fresh Start: the Stormont Agreement and Implementation Plan – the UK government response timeline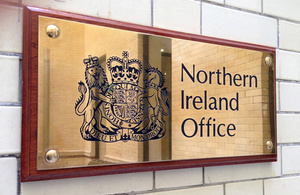 8 September
A spokesperson from the Prime Minister's Office gives a statement on the political situation in Northern Ireland and the need for cross-party talks. Secretary of State for Northern Ireland Theresa Villiers leads these talks.
10 September
The Prime Minister rejects requests to introduce emergency legislation to suspend the Assembly, but promises to explore what more the UK Government could do to address remaining paramilitary activity in Northern Ireland.
20 September
The Secretary of State commissions and publishes a factual assessment from the UK security agencies and the PSNI on the structure, role and purpose of paramilitary organisations in Northern Ireland.
29 September
The Secretary of State stresses the need for an agreement to be made soon, to address paramilitary activity and implement the Stormont House Agreement in full.
17 November
A deal is reached! The Secretary of State talks about what it means for the future for Northern Ireland.
Published 17 November 2015