News story
NHS to serve nearly 400,000 lunches this Christmas day
Dedicated NHS staff across the country will treat the thousands of patients who can't be at home this Christmas.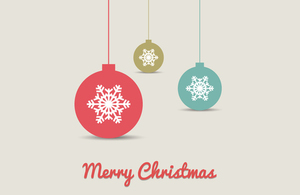 The NHS will serve nearly 400,000 lunches this Christmas day, with patients tucking into what could be the world's biggest festive meal.
Health Secretary Jeremy Hunt praised all those who will be working this Christmas day:
I want to thank everyone across our health and care system, from the cooks making hundreds of thousands of Christmas dinners to the cleaners, nurses, doctors, care workers, paramedics and countless other staff making sure patients get outstanding care this Christmas.

No-one wants to be away from home over Christmas but I know that staff are again pulling out all the stops so patients have the best possible time.
Across the UK, around a million people will be working on 25 December, including 12,000 midwives who will deliver 1,800 Christmas babies across the country.
Around 97,000 nurses and 53,000 healthcare assistants will be working in our hospitals, and in care homes across England, 200,000 care workers will support vulnerable and elderly people on Christmas day.
1.5 million items of linen, including bedsheets will be used in hospitals. And the vital work to keep hospitals running will continue across Christmas, with nearly 40,000 cleaners and more than 12,000 porters helping move patients around the NHS.
See NHS Choices for tips on how to have a healthy Christmas.
Published 24 December 2016