Press release
NHS pledges more support for women with postnatal depression
Women who have postnatal depression or who have suffered a miscarriage, stillbirth or the death of a baby will get more support from the NHS…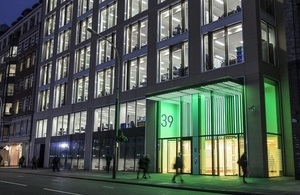 Women who have postnatal depression or who have suffered a miscarriage, stillbirth or the death of a baby will get more support from the NHS, Health Secretary Andrew Lansley has pledged today.
The extra 4,200 health visitors - who provide services for expectant and new parents at home and in local communities after they have had a baby - being recruited by the Government will get enhanced training so they can spot the early signs of postnatal depression.
Health Visitors and midwives will be supported to work together to provide expert joined up care for new parents with a focus on emotional wellbeing. These key healthcare professionals will be able to access new evidence and training so they can identify and support women with postnatal depression.
Where extra help is needed they will be able to refer them to counselling, thanks to the Government's £400 million investment in psychological and talking therapies.
For the first time, the NHS will be measured against how well it looks after parents who have miscarried or suffered a stillbirth or cot death. Patients will be asked to rate their care so the NHS can improve it. This will form part of the Prime Minister's friends and family test announced earlier this year.
The Government has also pledged to improve maternity care by:
Making sure the investment in a record 5,000 midwives currently in training means that women will have one named midwife who will oversee their care during pregnancy and after they have had their baby.
Making sure that investment also means that every women has one-to-one midwife care during labour and birth.
Making sure that investment means parents-to-be will get the best choice about where and how they give birth. The Government wants to see more joined up working so women can choose from a full range of services, meaning that choices made are delivered within an integrated, flexible service.
These pledges will be made possible by the wave of investment for health visitors, Midwifery students and psychological therapies and reform of NHS services over the next few years.
Andrew Lansley said:
"No woman should have to cope with postnatal depression without help and support. The changes we are putting in place today will mean that the NHS is providing even more support to women who have this serious condition.
"We have listened to the concerns of women about their experiences of maternity care, which is why we are putting in place a 'named midwife' policy to ensure consistency of care.  Not least, we will focus on the quality of care given to mothers-to-be and measure women's experience of their maternity care for the first time."
The Government will work in partnership with key stakeholders including the Royal College of Midwives, the Community Practitioners and Health Visitors' Association, and organisations such as 4Children, Mumsnet and Netmums to support implementation.
Justine Roberts, co-founder of Mumsnet:
"Sadly there are many experiences shared on Mumsnet of women not getting the best care when they need it, whether post-natally in hospital, after a miscarriage or still birth, or when battling post-natal depression. Today's announcement of renewed focus from the government is a positive step but a sustained effort is needed to ensure Mums benefit from these changes locally.
"Our campaign for Better Miscarriage Care, launched in 2011, called on the government and local NHS trusts to implement a 5-point code of care for families suffering from miscarriage. The announcement that services provided during miscarriage are to be monitored is a real advance towards identifying best and worst practice and therefore towards improving the care received."
Sally Russell, co-founder of Netmums said:
"We know that postnatal depression is extremely common and yet it is an illness that is very hidden. Most mums and dads find it difficult to admit they are suffering and yet it can be a blight on their lives. Some mums are devastated to feel that they don't love their child, or find themselves isolated with few friends, falling out with their partner, or unable to go to work. Having better support from local services could make a big difference, and we're delighted that the Government has identified this as a priority."
Anne Longfield, Chief Executive of 4Children said:
"4Children welcomes this new support for mothers suffering with postnatal depression.
"Our 2011 report 'Suffering in Silence' highlighted the stories of tens of thousands of mothers with depression who felt desperate, overlooked and fearful with terrible and long lasting consequences for them, their children and families. When help was offered it often came in the form of antidepressants despite the fact that counselling was the primary choice of many.
"The policies announced today respond to these concerns making post natal depression a priority for health professionals and ensuring that counselling and talking therapies are available to support.
"This is a good example of Government listening to the needs of families and many families are set to benefit as a result."
Any woman suffering from postnatal depression or after a stillbirth or miscarriage should contact their midwife, health visitor or GP.
**Notes to Editors     **
For further information, call the Department of Health Press Office on 020 7210 5896 / 5281 / 4990 / 5239.
For information and support on stillbirths and infant deaths, contact Sands.
For information and support on cot deaths, contact the Foundation for the Study of Infant__Deaths.
For information and support on postnatal depression, contact MIND.
For information and support on miscarriage, contact The Miscarriage Association.
Published 16 May 2012