News story
NHS Innovation Challenge Prize for Dementia opens for entries
Prize will recognise innovative ways of integrating care for people with dementia.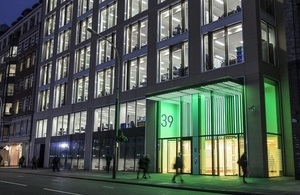 Professionals working in dementia care can now bid for a share of a £150,000 prize fund for redesigning dementia services around patients. The Secretary of State for Health launched the NHS Innovation Challenge Prize for Dementia in February 2013, in partnership with Janssen Healthcare Innovation.
The challenge prize aims to identify innovative ways of integrating dementia care by redesigning services around the needs of patients, improving diagnosis and reducing both the number of hospital attendances and the amount of time patients spend in hospital. Winners will receive national recognition for their achievements and their approach might be spread to other areas of the country.
The competition is open to anyone working in dementia care – from GPs, specialist nurses and social workers to support workers, charities and patient support groups. Entrants will need to demonstrate clearly how they are working as a seamless multidisciplinary team, with a least one other organisation from a different sector, and provide evidence of the positive impact the integrated service is having on the lives of patients and their carers.
Judging will also take into account:
improved clinical outcomes
value for money
whether the idea is easily transferable
whether changes are achievable within a reasonable timescale
whether the idea, service or product is new to the NHS or social care, or can be applied in a new way
Professor Alistair Burns, National Clinical Director for Dementia at NHS England, said:
We need to see a shift in the way dementia care is organised and delivered in the UK if we are to deliver better outcomes for people with dementia, and their carers, and help them live well with dementia.

People with dementia and their carers want, and deserve, integrated health and social care approaches which fit their lifestyles and allow them to access services when it suits them, not when it suits the service. It's crucial, therefore, that care is co-ordinated, person-centred and tailored to individual need.

We know that great examples of excellent care already exist and we look forward to seeing a number of high quality submissions from across the dementia community. The ultimate goal is to find innovative and novel approaches which can have a measurable impact on outcomes for people with dementia, and which can be replicated nationally.
The deadline for submissions is midday on 4 September 2013. For more information about the prize see the NHS Challenge Prizes site.
Published 22 May 2013