Press release
Next stage of Universal Credit rollout begins
Universal Credit will be in three-quarters of all jobcentres by Christmas, as the next phase of the national rollout begins today.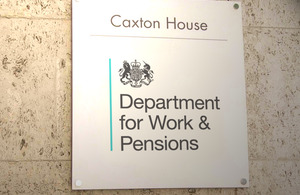 This comes as new figures show over 110,000 people are now receiving Universal Credit, with over 5,500 new claims every week on average. Almost 35,000 people on Universal Credit are already in work and benefitting from the flexibility offered by the combined in and out of work payment.
From today, 25 jobcentres from Durham to Wales, covering 12 local authority areas across the UK will begin to take new claims from single unemployed jobseekers.
With the new benefit arriving at 170 more jobcentres over the next 3 months, by spring next year, Universal Credit will be available across the country.
Work and Pensions Secretary, Iain Duncan Smith said:
Our one nation government is acting in the interests of the whole country, moving us to a higher wage, lower tax and lower welfare society by reforming the benefit system to ensure people are better off in work.

Universal Credit is revolutionising the way the benefit system works because it not only supports people to find a job, it also goes on to help them increase their earnings.

Already we have seen a remarkable positive change, with claimants finding a job faster, staying in work for longer, and – crucially – earning more.
Universal Credit is a revolutionary new benefit that simplifies the welfare system, better incentivises jobseekers and ensures they are better off in work. The new system shifts focus away from the number of hours a person works to the amount they earn, ending the 16 hour rule.
Eventually replacing 6 existing benefits with one monthly payment, Universal Credit will, for the first time, combine in and out of work benefits.
The latest research shows that jobseekers on Universal Credit find work faster, stay in jobs for longer, and double the time they look for work when compared to those on Jobseeker's Allowance.
Once fully rolled out, Universal Credit will save taxpayers over £2.6 billion each year in reduced fraud and error. With access to HM Revenue & Customs' real time earnings data, benefit payments can now be calculated exactly, and adjusted automatically to eliminate overpayments and ensure people receive the correct level of support both in and out of work.
More information
Universal Credit is now available in more than 50% of all jobcentres (384), including all of the north-west, where it is available to couples and families too.
Universal Credit will eventually replace:
Jobseeker's Allowance
Income Support
Employment and Support Allowance
Working Tax Credit
Child Tax Credit
Housing Benefit
Universal Credit is paid monthly, mirroring the way most people are paid in work.
In February 2015, we published a progress report – Universal Credit at work: spring 2015.
To help people find work quicker, our work coaches and recruiters have teamed up to create the Daily Jobseeker – an online resource with tips and advice on how claimants can land their perfect job.
We've also published official statistics showing the latest number of claims to Universal Credit.
New areas from 21 September 2015
On 21 September, Universal Credit became available to all new single claimants in:
Abergavenny
Amlwch
Andover
Bishop Auckland
Borehamwood
Caldicot
Chepstow
Chester-le-Street
Consett
Crawley
Crook
Durham
Haywards Heath
Hemel Hempstead
Holyhead
Horsham
Llangefni
Merthyr Tydfil
Newton Aycliffe
Peterlee
Reading
Seaham
Spennymoor
Stanley
Winchester
Detailed information on how to claim Universal Credit is available at www.gov.uk/universal-credit
Contact Press Office
Media enquiries for this press release – 0203 267 5162
Press Office
Caxton House
Tothill Street
London
SW1H 9NA
London Press Office (national media and London area enquiries only – not questions about personal claims) 020 3267 5144
Out-of-hours (journalists only) 07623 928 975
England and Wales (local media enquiries) 029 20 586 then 097 or 098 or 099
Scotland (local media enquiries) 0131 310 1122
Follow DWP on:
Published 21 September 2015
Last updated 23 September 2015
+ show all updates
Changed "24 jobcentres" to "25 jobcentres" and added "Amlwch" to the list.
First published.