Press release
Next phase of work for High Speed 2 and Scotland
Study announced to increase the benefits that Scotland gains from HS2.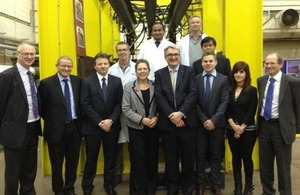 A new study looking at how to increase the benefits that Scotland gains from HS2 was announced today (1 November 2013) by Transport Minister Baroness Kramer. The work could also bring further benefits to more towns and cities in northern England.
Scotland and a number of locations in the north of England will be served by high speed services as soon as Phase One of the route between London and the West Midlands opens in 2026 as there will be seamless transition of HS2 trains onto the West Coast Main Line.
Once Phase Two to Manchester and Leeds is completed, the benefits will be even greater with journey times to and from Scotland to London reduced by up to an hour without changing trains.
Following discussions with Transport Scotland, the UK government has today (1 November 2013) instructed HS2 Ltd to identify ways to make further rail capacity and journey time improvements between northern England and Scotland for both passengers and freight. This will include looking to cut journeys from Glasgow and Edinburgh to London to 3 hours or less.
UK government Transport Minister Baroness Kramer said:
Our goal for HS2 is for a truly national network that will bring the UK and its cities closer together. We are driving forward HS2 because the benefits it will bring are huge. Without it we face a crisis in capacity on our rail network. But it is also about connectivity, across the UK 18 cities including Glasgow and Edinburgh will be better connected because of HS2.

Scotland will already benefit from day one with reduced journey times to and from London and once the full network is open these times will be reduced by up to an hour. However, we want to see if more can be done and so we are commissioning this study from HS2 Ltd with the support of the Scottish government to consider how these benefits could be extended further.
The Secretary of State for Scotland, Alistair Carmichael said:
Today's (1 November 2013) announcement is good news for Scotland. The goal of delivering a genuinely national network with high speed services shows this government is serious about promoting economic growth right across the UK.
The completion of the HS2 Y-network will help boost the Scottish economy by an estimated £3 billion. Employment opportunities in the planning and construction of HS2 could also benefit Scotland's strong engineering base. Tourism on both sides of the border will also be supported as the UK is opened up to faster travel. Today's (1 November 2013) announcement looks at the options for what might be done to improve journey times to and from Scotland still further.
Scottish government Transport Minister Keith Brown said:
High speed rail has the potential to bring huge economic benefits to Scotland, but also adds Scotland's economic weight to the overall case for high speed rail across the UK.

So we are willing to work in partnership with the UK government to examine options for bringing high speed rail to Scotland, creating benefit for all and complementing the Glasgow to Edinburgh high speed line which the Scottish government is already planning.

I look forward to reviewing the report of the investigation with UK ministers and together decide on the next steps.
HS2 Ltd, working with the Department for Transport, Scotland Office, Network Rail and Transport Scotland will generate a list of options. Improvements could include extending high speed lines, making upgrades to existing lines, or a combination of the 2.
A final report will be submitted to the Department for Transport next year for ministers to consider.
Baroness Kramer today (1 November 2013) visited Glasgow Central station, into which HS2 services will arrive from 2026. The minister also went on a fact-finding trip to Edinburgh's Heriot-Watt University and its high speed rail centre of excellence.
Notes to editors
The strategic case for HS2 was published on 29 October.
Phase One will see hourly journeys of 4 hours between London and Glasgow/Edinburgh.
Phase Two will see these journeys reduced to 3 hours 38 minutes.
Currently the fastest service between London and Glasgow is the daily 4 hour 8 minute service from London Euston to Glasgow Central.
HS2 and major projects media enquiries
Press enquiries 020 7944 3021
Out of hours 020 7944 4292
Switchboard 0300 330 3000
Published 1 November 2013