Press release
Next Generation Shared Services to save millions for taxpayers
Changes to the way government shares its corporate services are set to radically improve efficiency across departments and save money.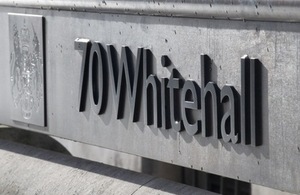 28 December 2012
Fundamental changes to the way the government shares its corporate services are set to radically improve efficiency across departments and save taxpayers up to half a billion a year, the Minister for the Cabinet Office announced today.
The Next Generation Shared Services Strategic Plan outlines how government departments and arms-length bodies will work together to share functions such as HR, procurement, finance and payroll to deliver potential savings of between £400 and £600 million a year in administration costs.
The Civil Service Reform Plan published in June, made clear that the Civil Service needs to move further and faster than ever before to share a wide range of services and expertise, and this is a key step towards reaching that goal. The strategy sets out a new model of 5 service centres instead of the current 8 - 2 independent and 3 standalone.
1 independent centre will be run by a private sector partner, built from the divestment of the current Department of Transport function, the structure for the second centre will be announced early next year. 3 existing government centres, which already have a good economy of scale will continue to provide services.
Minister for the Cabinet Office, Francis Maude, said:
Sharing services simply makes sense. There is absolutely no need for departments and arms-length bodies to have their own back-office functions, and duplicate efforts, when they can be delivered more efficiently by sharing services and expertise. Plus it will save the taxpayer half a billion pounds a year. That's why we have taken action and fundamentally changed the way central government departments share their services.

We want sharing services to become the norm, so every department has high quality, flexible and resilient services available. This means they can focus on their priority of implementing policy and delivering key public services.

The world is changing and so must the Civil Service. We are in a global race, and are faced with rising public expectations and spending cuts to deal with the deficit. The Civil Service needs to do things faster, be smaller and to provide more services online. It needs to be more unified so we have an exceptional Civil Service delivering the best for Britain.
This is the first stage in the government's plan to share services, and the ambition is that this will be expanded to other areas of expertise such as legal services.
Head of the Civil Service, Sir Bob Kerslake, said:
The Civil Service is constantly looking to improve how it works. One way we can do this is by becoming more efficient, and sharing services is a simple and smart way of doing this. The Civil Service has always adapted to challenges, retaining our core professionalism while moving with the times.

By bringing together more of the services that departments use we can not only save the taxpayer millions, an important goal in its own right, but we can deliver on our commitment to become a more unified body providing a first class service to the public.

The Cabinet Office is providing strong leadership and is working closely with departments to implement the new shared services strategy.
Stephen Kelly, Chief Operating Officer for government, will oversee the programme as Senior Responsible Officer and will work with departments to drive through the transition. Robust governance has been put in place with a Crown Oversight function to monitor the performance of shared service centres.
Chief Operating Officer Stephen Kelly, said:
Next Generation Shared Services is an exciting and innovative programme which will gain real momentum in 2013. This strategic plan is the roadmap for a robust, measurable and successful programme for shared services which is fundamental to Civil Service Reform. The outcomes of better service quality, value for money and price certainty are keenly anticipated by departments, and I look forward to its full implementation.
Notes to editors
Chief Operating Officer Stephen Kelly is the Senior Responsible Officer who will oversee the Next Generation Shared Services programme.
The Civil Service Reform Plan can be found on the My Civil Service website.
Already there has been significant progress in implementing the plan, including launching the Contestable Policy Fund, the Government Digital Strategy and GOV.UK.
Published 28 December 2012