Press release
Next generation nursing and midwifery to free up more time for patients
£140 million for nurses and midwives to improve care and beat bureaucracy The Prime Minister and Health Secretary today set out plans to invest…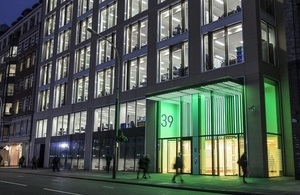 £140 million for nurses and midwives to improve care and beat bureaucracy
The Prime Minister and Health Secretary today set out plans to invest £140 million so that NHS nurses and midwives can spend more time with patients, not paperwork, and provide safer care.
£100 million will be offered to the NHS for nurses and midwives to spend on new technology that will free up time for patient care and help make essential patient details instantly available on the ward, at the bedside or in the community. Nurses and midwives, whether they work in a hospital, in the community or in another care setting, will decide what kit is best for their own workplace.
The new technology could include digital pens and other handheld mobile devices that allow staff to know the latest information about a patient's treatment whenever, wherever they are, and provide safer, quicker care. These technologies will enable a swifter, more comprehensive understanding of a patient's care and conditions. They will also reduce the time spent on form filling and bureaucracy, freeing up time for face-to-face patient care.
The NHS will be loaned cash to fund these new technologies for nurses and midwives, but will only be required to repay a percentage of the loan. However, those organisations that receive positive feedback from patients in the Friends and Family Test will not have to repay any of the loan.
The Prime Minister David Cameron said:
"Too often nurses have been met with a barrage of bureaucracy - the boxes have been ticked and the quotas have been met.
"My mission with the NHS is to change that. We need to focus relentlessly on improving the care people get, and we're taking some big, practical steps to achieve that.
"We're introducing one of the most simple tests that any caring organisation can have. We're asking staff and patients if they would be happy to recommend the hospital they're in to their friends and family. It's called the Friends and Family test, and the results show in a very human way how a hospital is performing: not just how their budget's looking; but how people feel about being there."
Earlier this week, the Royal College of Nursing and the Royal College of Physicians published fresh guidance urging the NHS to spend more time with patients and give ward rounds the priority they need - this new support will help to make that happen.
An additional £40 million will be made available for extra leadership training to skill up the next generation of nursing and midwifery leaders. Up to 1,000 nurses and midwives will get this training and support this year, rising to 10,000 over the next two years. This training will also be available to nurses and leaders working in the care sector.
Health Secretary Jeremy Hunt said:
"Most nurses and midwives chose their profession because they wanted to spend time caring for patients, not filling out paperwork. New technology can make that happen. That's better for nurses and patients too, who will get swifter information and more face-to-face time with NHS staff.
"The importance of these issues was laid bare by doctors' and nursing leaders earlier this week. The Government's role is to listen to the NHS and support these leaders - that's what we're doing today."
Notes to editors
Support for nursing is one of the Prime Minister's priorities. In January 2012, the Prime Minister set up a new Nursing and Care Quality Forum to identify and spread best nursing practice care across the NHS. The Chief Nursing Officer provides strong national leadership across England to enable this to happen. The forum is made up of independent experts who have reported regularly to the Prime Minister on progress and support the CNO.
About the Friends and Family Test:
In the future, patients will be asked for their views on the care they receive in hospital. The Department of Health has published further details on the introduction of the new "Friends and Family Test", which will see hospitals across the NHS in England report consistently, for the first time, on patient feedback and use their experiences to drive improvements in frontline care.
The introduction of the Friends and Family Test underlines the Government's focus on patient experience and its drive to make sure the NHS provides the very best care patients deserve.
From April 2013, on every ward and in every A&E department, patients will be able to answer a simple question: whether they would want a friend or family member to be treated there in their hour of need. This will help hospitals to identify poor performance and encourage staff to make improvements where services do not live up to patients' expectations. The answers will be made public so that everyone has a clear idea of which wards, A&E departments and hospitals are providing the best care.
Vision for compassionate care
Over recent months, Jane Cummings, Chief Nursing Officer for England, and Viv Bennett, Director of Nursing for the Department of Health, have been talking to care givers up and down the country to start to understand what this vision should look like, and what values unite the profession.
They recently published their draft vision. It sets out the values and behaviours that have come up time and again - care, compassion, competence, communication, courage and commitment.
Jane Cummings and Viv Bennet and their teams are now engaging further with the profession and its bodies and the public – via face-to-face events and online forums and debates. They want to hear from care givers across the NHS, in public health and social care. After this is complete, they will publish a final vision, complete with a detailed plan for action.
Details on how to get involved is available on the NHS Commissioning Board website.
Published 8 October 2012