New workshop services front line vehicles
A purpose-built workshop for the in-theatre maintenance and repair of UK military vehicles was recently opened in Camp Bastion, southern Afghanistan, by Defence Secretary Dr Liam Fox.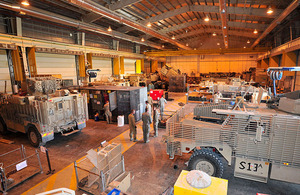 Staffed by up to 130 military engineers and Defence Support Group (DSG) civilians, the multi-million pound facility will mean that vehicles no longer have to be returned to the UK for deep repair and maintenance, saving millions per year in equipment rotation costs.
The Equipment Sustainability System (ESS) facility can accommodate 26 armoured vehicles and is one of the biggest buildings built in support of British operations since World War Two.
The facility was opened by Dr Fox last month. He said:
Ensuring our troops have the armoured vehicles they need to carry out their tasks is absolutely vital. This facility will reduce the time taken to repair vehicles and get them back out on the front line.

I imagine this is the one of the biggest, if not the biggest, building in Helmand and it demonstrates exactly what we can do in terms of innovation and excellence.
Lieutenant Colonel Phil Croager, Project Officer based at the Permanent Joint Headquarters (PJHQ), said:
Front line equipment is worked extremely hard in tough conditions. This facility will allow us to bring vehicles in for deep maintenance, which will help to extend their time in theatre and increase their availability to operational commanders.
The DSG is a UK government trading fund owned by the Secretary of State for Defence. It aims to deliver wider defence objectives in support of key industrial strategy requirements and to be integral in future defence air and land systems acquisition and support solutions, wherever cost-effective and appropriate.
The DSG's mission is to provide expert in-house maintenance, repair, overhaul, upgrade and support services for the UK Armed Forces' air and land systems.
Published 7 February 2011