New video to help farmers reduce TB risks
Farmers will be able to access advice on reducing the risks of cattle contracting TB from wildlife through a new online video, released today.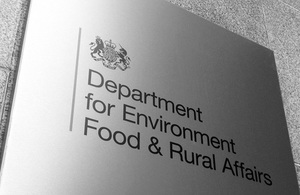 Launched as part of the package of measures to tackle the disease, the video gives an introduction to some basic badger ecology and behaviour and uses real life farm situations - explained by cattle farmers - to demonstrate practical measures for reducing bovine TB transmission risks from wildlife. It builds on TB biosecurity advice already available to cattle farmers.
The information and advice in the video is drawn from behavioural and observational studies carried out by researchers at the Food and Environment Research Agency (Fera), who provide impartial, independent advice to Government and who have been involved in the study of badgers and bovine TB since the 1970s.
Agriculture Minister Jim Paice said:
"Good wildlife biosecurity will help to reduce the risk of cattle getting TB, and this video will help ensure famers have the most up-to-date advice to take simple and effective steps.
"TB is a devastating disease and good biosecurity is part of the comprehensive package of measures we need to get the disease under control and start to eradicate it."
The training video is jointly funded by Defra, the National Farmers Union (NFU), the Welsh Government and the National Animal Disease Information Service (NADIS).
John Griffiths, Welsh Government Minister for Environment and Sustainable Development, said:
"Biosecurity is an important aspect of our comprehensive approach to tackling bovine TB. I hope this film will be a useful tool for farmers and provide them with some practical tips for ways they can improve biosecurity on their farms."
NFU President Peter Kendall said:
"Improving on-farm biosecurity and introducing measures to keep badgers out of farm buildings and feed stores can play a part in reducing the TB risks posed to cattle herds.
"This video shows the industry is working hard to try all measures which could help to limit the spread and impact of this terrible disease."
The video forms part of the wider TB eradication programme and implements a recommendation made by the Bovine TB Eradication Group for England in their 2009 Progress Report that highlighted the need to provide TB affected farmers with more effective and better focused support and advice.
It will be used by Defra, the Welsh Government, the NFU, the South West TB Farm Advisory Service (SWTBFAS) and National Animal Disease Information Service at training events across the country, and is also available to download through the Defra YouTube account: http://uk.youtube.com/user/defrauk.
Video 1 - Introduction
Video 2 - Identifying badger activity
Video 3 - Biosecurity at pasture
Video 4 - Biosecurity in farm buildings - Part 1
Video 5 - Biosecurity in farm buildings - Part 2
A transcript of the videos (PDF) is also available.
Notes
Measures to tackle the devastating effect of bovine tuberculosis in England were announced by Environment Secretary Caroline Spelman on 19 July 2011: www.defra.gov.uk/news/2011/07/19/next-steps-to-tackle-bovine-tb-in-england-2/
The Bovine TB Eradication Group for England was established in November 2008 to make recommendations to the Secretary of State on bovine TB and its eradication. It is made up of representatives from the farming industry, veterinary profession, Animal Health and Defra. Its 2009 Progress Report (PDF) is available.
More information is available on the Welsh Government TB programme.
The DVD is presented by Dr Jo Judge, a wildlife biologist at the Food and Environment Research Agency (Fera), which carries out research into wildlife ecology and management, specialising in the effective and sustainable control of wildlife diseases. The DVD advice on biosecurity and badger exclusion measures is the result of a three year Fera project investigating the use of farm buildings by badgers. Working on 40 farms in Gloucestershire, Fera specialists developed and tested practical methods to reduce the level of contact between badgers and cattle. www.fera.defra.gov.uk
Published 30 August 2011