New veterinary residues committee appointments
Three new members have been appointed to the independent Veterinary Residues Committee (VRC).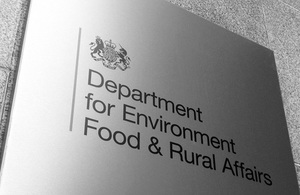 The Veterinary Residues Committee (VRC) oversees the UK's surveillance for residues of veterinary medicines in food.
John Points, Jonathan Statham and Dr Stella Walsh will serve from September 2011 until December 2014.  They will receive £148 per meeting, with an additional £38 for preparation.
John Points is an experienced laboratory manager, with extensive knowledge of veterinary residues analysis.
Jonathan Statham is a partner in a multidisciplinary veterinary practice in North Yorkshire, working mainly with food-producing species and is a past President of the Yorkshire Veterinary Society.
Dr Stella Walsh currently teaches food retailing and marketing at Leeds Metropolitan University.  She has been a member of the National Consumer Federation for more than 20 years.  She has also been a representative on the Food Standards Agency and Department of Health Scientific Advisory Committee for Nutrition (SACN) for ten years, for which she receives an attendance and reading fee of £160 a meeting.
The appointments adhere to the Defra Public Appointments Guidance for non-OCPA Regulated Appointments including Expert Committees.  Neither Mr Points, Mr Statham nor Dr Walsh have declared any political activity during the past five years.
Notes
As part of the Government's Arms Length Body review the VRC is no longer an Advisory Non-Departmental Public Body and has been reconstituted as an expert committee.  Expert committees provide scientific or technical advice to Government Departments and Devolved Administrations on specific policy areas.
For more information go to http://www.vmd.defra.gov.uk/vrc/.
Published 20 September 2011