New ventilators arrive in Afghanistan
New ventilators, which will play a key role in saving the lives of soldiers injured on the front line, have arrived in Afghanistan.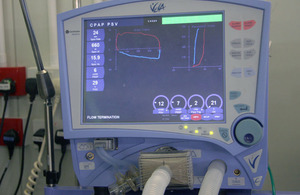 The Vela Comprehensive ventilators are being used in the Intensive Care Unit at the Armed Forces' hospital in Camp Bastion, providing additional hi-tech kit for doctors and nurses who work to save the lives of personnel injured on the front line.
Until now, medics have been using three different types of ventilator to help patients breathe.
New technology means this flexible piece of kit is able to do the job of all three - including giving medics the ability to use the same ventilator on patients even when they are being transported within the hospital.
Chris Lund of Defence Equipment and Support's Medical and General Supplies Team, responsible for bringing the ventilators into service, said:
These new models are a welcome addition to the equipment that our field doctors and nurses use in theatre and the feedback that we are already receiving is that this is a great piece of kit.
"The delivery of this equipment demonstrates our commitment to provide the best possible kit and levels of care to our troops out in Afghanistan."
Major Maggie Hodge, Officer Commanding the Intensive Care Unit, said:
It is small, simple and has everything that we need. It allows us to see what is happening in even more detail, meaning we're able to base our decisions about treatment on better information.
It can also be used for non-invasive treatment, which is more comfortable for the patient - especially out here where it is dry and dusty.
Major Clare Dutton, Defence Specialist Nurse Advisor, said:
These new ventilators are already playing a vital role in saving the lives of those injured in the fight against the insurgents.
Doctors are able to treat patients more easily and quickly than before - and patients not requiring invasive ventilation are likely to be discharged more rapidly from the unit.
All in all this represents a significant improvement in clinical capability.
Nick Hill, who is the UK & Ireland Commercial Manager at CareFusion - the company which makes the Vela ventilators - said:
We are very pleased to be able to play our part in supporting our boys and girls on the front line by providing this important piece of equipment to the Armed Forces.
The MOD has purchased twenty-nine Vela ventilators in a contract worth £500,000. Twenty-four are already in use at Camp Bastion while the remaining five will be used to train medical personnel in the UK.
Published 3 September 2010