News story
New Vehicle Purchase agreement
This new agreement will enable government and public sector organisations to buy a wide range of vehicles.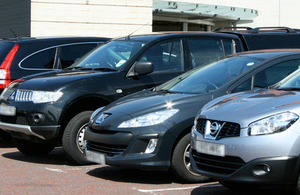 A new Vehicle Purchase agreement is now available from the Crown Commercial Service (CCS) for use by government departments and public sector organisations requiring a wide range of vehicles including cars, 4x4s, commercial vehicles, buses, coaches and motorcycles.
CCS has worked closely with UK police forces in the development of the agreement to ensure that, for the first time, it provides the specific vehicle types police forces require.
Another new aspect of the agreement is the option to purchase vehicles for use overseas. The agreement also supports the Clean and Energy Efficient Vehicles Directive 2009-33-EC and can help organisations meet sustainable vehicle procurement measures.
Customers with vehicle requirements are encouraged to take part in an eAuction which will help them achieve further savings against the already discounted agreement prices.
View the agreement to find out more about the full range of benefits and how to take part in an eAuction or email fleet@ccs.gsi.gov.uk
Published 7 January 2015