World news story
New UK visa application centre in Phnom Penh officially opens
Today in Phnom Penh, British Ambassador, Bill Longhurst, officially opened the new UK visa application centre.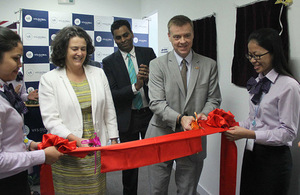 The new centre is operated by UK Visas and Immigration's commercial partner in Asia Pacific, VFS Global, and is open to customers on Mondays and Thursdays by appointment.
At the opening ceremony, British Ambassador, Bill Longhurst said:
I am very pleased to officially open this new centre which will allow us to continue to provide an efficient and convenient UK visa service to customers in Cambodia. VFS Global has an excellent track record as our partner for visa services across the Asia Pacific region and will enable us to offer a greater range of customer services.
Customers will be required to pay an additional fee to use the visa application centre which covers the cost of submission facilities and the return courier of documents to the decision-making hub in Bangkok. The fee to use the service is £59 and must be paid online through the VFS website, prior to customer's attending their appointment at the VAC.
The new visa application centre is part of a global restructure to increase the number of UK visa application points and improve services globally, through commercial partner contracts.
The move to a user pays service in low volume locations, including Cambodia, provides UK visa customers continued access to a convenient, local service rather than one located in another country.
The new service will also provide customers access to value added services including an SMS application tracking service. We also propose to launch a 5 day priority visa service and a courier to home address service.
The new visa application centre will be located at the same premises as the Australian visa service.
Further information about the new visa application centre and services is on the VFS global in Cambodia website: http://www.vfsglobal.co.uk/cambodia
Notes to editor
The Visa Application Centre will move to Phnom Penh Tower, 10th floor, Monivong Blvd, Sangkat Pralit, Khan 7 Makara, Phnom Penh.
The VAC will be open Mondays and Thursdays 08:00 – 17:00 by appointment
The fee to use the visa application centre will be £59. This will be in addition to the visa fee to cover the cost of providing the application submission facilities in Cambodia and the return courier fee to the decision making hub in Bangkok.
The fee is payable online on the VFS global website: http://www.vfsglobal.co.uk/cambodia
Applications will continue to be assessed by UK Visas and Immigration staff and there will be no change to our standard processing times.
The UK visas and immigration pages of this website provide guidance on visa requirements and how to apply: http://www.gov.uk/visas-immigration
For customers who require further assistance, a new international visa enquiry service is available from April 1 to customers from Cambodia who have a visa enquiry. The new visa enquiry service will provide a range of contact options including a free recorded information service, a free email service, a premium call service and a web-chat service. Contact details are on https://www.gov.uk/contact-ukvi
Published 31 March 2014