Press release
New UK aid package for Iraq focuses on vulnerable women and children
Justine Greening travelled to Iraq to see first-hand how UK support is helping people affected by the fighting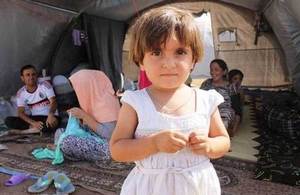 Britain is assisting desperate Iraqi civilians, including the most vulnerable women and children, with an additional £10 million of emergency humanitarian relief, International Development Secretary Justine Greening announced today during a visit to northern Iraq.
The latest package of support was unveiled as 2 further UK aid flights arrived today in northern Iraq carrying tents, reusable water containers and solar lanterns that can also recharge mobile phones. There have now been 8 Department for International Development (DFID) aid flights into the northern Iraqi city of Erbil in the last fortnight, in addition to 7 UK relief air drops over Mount Sinjar delivered by the Royal Air Force (RAF).
Ms Greening was in Baghdad yesterday (Tuesday) and Erbil today for meetings with the Iraqi Government, the Kurdistan Regional Government (KRG) and to see the Bakhara camp, near Erbil, where thousands of displaced Iraqis are sheltering with assistance from the UK and our partner agencies and NGOs.
The £10 million support package announced today, bringing the total UK support for those displaced in Iraq to £23 million, comprises:
£6.5 million of funding to NGOs already working on the ground which will enable them to continue to provide shelter, food, and clean water. In addition, they will be able to offer emotional support to help people deal with the trauma of their situation including support groups for women and safe spaces for children;

£2 million to enable the rapid delivery of emergency supplies. So far 8 UK aid flights have delivered 62 tonnes of food, 1,574 tents, 8,500 kitchen sets and 840 water filtration sets, each of which can provide 20,000 litres of clean drinking water;

£640,000 for vital logistics and coordination work to ensure aid is getting through to those who need it as quickly and effectively as possible;

£260,000 for a humanitarian worker safety hub in Iraq to provide reliable, often lifesaving information about security risks to help NGOs staff stay safer;

£500,000 for the International Committee of the Red Cross (ICRC) to help reach those communities cut off from all other help; and

£100,000 to enable the International Humanitarian Partnership (IHP) to set up a camp for 20,000 displaced people near Dahuk.
Speaking in Erbil in northern Iraq, Justine Greening said:
The situation in northern Iraq is deeply worrying. Hundreds of thousands have been forced from their homes and thousands are surviving in makeshift camps as the fighting continues. I am particularly concerned about increasing reports of human trafficking and violence against women, as well as children suffering terrible trauma.

Britain has been quick to respond and I have seen for myself how lifesaving supplies of food, water and shelter are making a real difference to people who have been left with nothing. But we can do more, and will do more.

I am scaling up our efforts across the board and in particular channelling support to meet the specific needs of women and girls who make up the majority of the displaced populations and who need our protection the most.
In Baghdad, Ms Greening met Iraqi President Fuad Masum, Iraqi Prime Minister Designate Haidar al-Abadi and Iraqi Speaker Salim al-Jibouri. In Erbil this morning, she held meetings with Kurdistan Region President Masoud Barzani and Cabinet members of the regional government including Deputy Prime Minister Quabad Talabani.
At Bakhara camp this afternoon, she met ordinary Iraqis displaced by the fighting, humanitarian workers with the NGO Handicap International and UN agencies, including the new UN Humanitarian Coordinator Kevin Kennedy.
Notes to editors
The £10m package announced today includes the release of £6.5 million of funding to NGOs; £5 million of this has been committed already to the Norwegian Refugee Council (NRC), the Danish Refugee Council (DRC), Mercy Corps, Action Contre Faim (ACF), and ACTED. The remaining £1.5m is in the process of being allocated.

Images of DFID's humanitarian response to the crisis in Iraq can be found here: https://www.flickr.com/photos/dfid/

The latest information on the UK Government's humanitarian response can be found here: https://www.gov.uk/government/news/iraq-uk-government-response
General media queries
Follow the DFID Media office on Twitter - @DFID_Press
Published 27 August 2014