Press release
New strengthening faith institutions programme: now open for bids
Bids are invited from organisations to run a £400,000 programme to help strengthen and support faith institutions.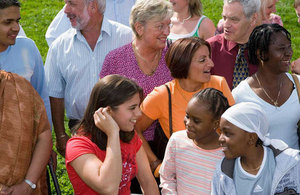 We are asking for bids from organisations to run a £400,000 programme to help strengthen and support faith institutions.
Bids are welcome from today (30 January 2015) until midday on 2 March 2015.
Faith communities make a vital contribution to national life: they guide the moral outlook of many, inspire great numbers of people to public service and provide help to those in need. Across the country, people from different faiths are working hard in countless churches, mosques, temples, gurdwaras, synagogues, other faith institutions, and in charities and community groups, to support their local communities.
But institutions of every faith can face challenges. These can come in many forms: engaging with the wider community, establishing strong governance structures or responding to events in their areas. Sometimes places of worship of different faiths might not be aware of others dealing with the same issues just streets apart.
For the purposes of this programme, a faith institution is a place of worship: its leaders, trustees, staff and volunteers.
This programme will expected to deliver under 3 strands:
1. Support for faith institutions facing challenges
Provide training on key topics for faith institutions and consultancy-style support for those facing specific challenges.
2. Sharing best practice: materials and website
Support faith institutions to learn from each other's great work and provide a first port of call for useful resources and guidance.
3. Connecting faith with the community
Link faith institutions more strongly with their local communities, supporting them to engage with women, young people and places of worship of other religions and creeds.
How to apply
Please complete the application form with reference to the specification and evaluation criteria. You may also find it helpful to refer to the documents arising from the workshop on 21 January 2015.
Completed application forms should be sent to integration@communities.gsi.gov.uk with the subject line "SFI application" and your organisation name.
Applications will be acknowledged by email within 2 working days of receipt.
The closing date for applications is midday on 2 March 2015. We aim to announce the successful bid on 26 March.
Further information
We are commissioning an organisation or consortium to help strengthen and support faith institutions over the years 2015 to 2016 and 2016 to 2017 for a maximum budget of £400,000.
To be eligible to receive the grant an organisation must be a registered charity or have a charitable purpose. A consortium must be led by a registered charity or have a charitable purpose but can include other organisations.
Following a workshop with interested organisations on 21 January to discuss how this programme can best support groups of all faiths, the bidding window is now open from today (30 January) to midday on 2 March.
Office address and general enquiries
2 Marsham Street
London
SW1P 4DF
Contact form http://forms.communiti...
General enquiries: please use this number if you are a member of the public 030 3444 0000
Published 30 January 2015