New strategy to deliver homes and strengthen the economy
An ambitious new strategy to tackle the housing shortage, boost the economy, create jobs and give people the opportunity to get on the housing…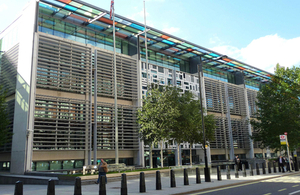 An ambitious new strategy to tackle the housing shortage, boost the economy, create jobs and give people the opportunity to get on the housing ladder was announced today (21 November 2011) by the Prime Minister and the Deputy Prime Minister.
The Prime Minister and Deputy Prime Minister said the Government has inherited a broken housing market and a devastating collapse in construction from the era of top down targets, but new plans will give the housing market a shot in the arm by boosting supply, easing financial pressures and helping with demand. The action we take will drive up the level of housebuilding, ensure we are helping new home owners and boost consumer confidence.
The Strategy will break the current cycle in which lenders won't lend, builders can't build and buyers can't buy. We'll be making it easier for people to secure mortgages on new homes, help people get on the property ladder, address unfairness in social housing and ensure homes that have been left empty for years are lived in once again.
Help for home buyers
At the heart of the strategy is a new build indemnity scheme that will give a helping hand for up to 100,000 prospective buyers who are currently frozen out of the housing market because of the need for large deposits.
Under the proposals, homebuyers will be able to secure loans on newly built homes - the bedrock of the first time buyer market - with only a five per cent deposit.
The Government and housebuilders will help provide security for the loan, so if the house is then sold for less than the outstanding mortgage total the lender will be able to recover its loss.
Through the scheme lenders will be encouraged to offer mortgages with smaller deposits, increasing demand for new homes and giving a welcome boost to the housing market.
 
The Government will also consult shortly on proposals to increase discounts under the Right to Buy, giving social tenants the opportunity to buy the homes they live in. The discount will be improved dramatically and will be up to half the value of the home, making home ownership ever more achievable.
For the first time, the receipts from additional Right to Buy sales will be used to support the funding of new affordable homes for rent on a 'one for one' basis, which is expected to deliver up to 100,000 new homes and support 200,000 jobs.
Help for housebuilders
Assistance for people buying homes will be matched by support for the people who build them, from the largest housebuilder to people who want to build their own homes.
Affordable housing providers are in line to share almost £1.8bn cash to develop new affordable homes. The first £1bn worth of contracts  under the Affordable Homes Programme  have just been confirmed, putting the Government on track to deliver up to 170,000 new affordable homes across the country over the next four years.
The Government will give more support for local areas that want to deliver new, larger-scale developments that meet the needs of their growing communities. A new prospectus will be published shortly inviting councils and communities to identify opportunities for locally planned large scale development, which will take advantage of streamlined planning processes, giving communities a stronger say and developers greater certainty.
The new plots could vary in size, from a small expansion of a few hundred homes through to a new market town with up to 10,000 homes. Viable schemes that are sustainable and have strong local support will be given financial assistance to get the work going, and will be prioritised for future infrastructure spending.
Where there are existing building sites that have stalled, a £400m Get Britain Building funding pot will enable housebuilders to restart construction, helping to deliver up to 16,000 new homes on sites that already have planning permission, but have been shut down because of economic conditions.
The new support on offer will also benefit self builders, an industry often assumed to be out of reach for some, but one that is increasingly popular and already worth £3.6 billion for the national economy. We are announcing £30 million additional funding to support provision of short term project finance on a repayable basis.
Councils will receive support to work with local people and bring forward plans for larger custom-built housing projects, similar to the successful project in Almere in the Netherlands.
All these measures will be supported through the New Homes Bonus, which will ensure that those areas which are growing have the resources to meet the needs of their new residents and existing communities.
Improving fairness in social housing
Efforts to boost the supply of new homes and help homebuyers will be matched by improving fairness for those living in social homes.
Measures in the strategy will support the radical programme of reform to the system for social housing that is already underway. The Government will consult on 'Pay to Stay' proposals. This will mean that those social tenants on high salaries, such as household incomes of over £100,000 a year, will pay up to market rents if they want to continue living in taxpayer-subsidised homes.
Councils will be given new powers to reject applications for social housing from people who own a perfectly acceptable home of their own. And there will be stronger measures to help tackle the outrage of 50,000 unlawfully-occupied social homes - with a more detailed consultation to be published later this year.
The overly bureaucratic and complex model of council housing finance will be scrapped too so councils can manage their social housing stock more effectively.
Instead of the revenue generated from social housing being handed over to central Government and redistributed, councils will be able to keep their own receipts, giving them freedom to maintain their housing stock with more efficiency and transparency, in a way that meets local needs.
Support for the private rented sector
The Strategy will also support greater investment in the private rented sector, a sector which accounts for around 16 per cent of all households.
Large scale investment will be driven through changes to the tax rules affecting bulk purchases of buy-to-let homes, as well as through measures to encourage the growth of Real Estate Investment Trusts - the globally recognised model for real estate investment that provides low cost access to capital.
An independent review will also consider whether there are barriers to greater large-scale investment in rented housing.
Action on empty homes
The Prime Minister and Deputy Prime Minister said that the fact that for years so little has been done to bring the nation's empty homes back into use is a "national scandal". Tackling the 700,000 empty homes across the country is a top priority in the strategy, and a key feature in the drive to increase the provision of affordable housing.
Housing Associations and councils will be able to apply for part of £100m of Government funding to bring empty homes that blight neighbourhoods back into use. The money will be used for innovative housing schemes that will ensure empty properties that ruin neighbourhoods are lived in once again, communities are regenerated and at the same time more affordable housing is provided. Government is also announcing £50 million of further funding to tackle some of the worst concentrations of empty homes.
The schemes will be backed by cash rewards through the New Homes Bonus for councils bringing empty homes back into use, and many schemes will also have wider benefits such as providing excellent training opportunities for local people.
The Government is also consulting on plans to allow councils local discretion to introduce a council tax premium on homes in their area that have been empty for more than two years, to provide a stronger incentive for empty homes' owners to bring them back into use.
Supporting older people to live independently
The Strategy also focuses on the needs of older people and includes a deal to improve the quality and choice of housing available for older people, which aims to help them to stay independent for longer.
Nearly a third of all homes are occupied by the elderly, and nearly two thirds of the projected increase in the number of households over the next twenty years will be headed by someone aged 65 or over.
So a package of measures will help the elderly adapt their homes, or move into alternative housing, to meet their changing needs. As part of this package the Government will work to develop simple and attractive financial products that help older home owners safely release equity that they can then use to maintain or adapt their homes.
Other reforms set out in the strategy include:
transferring housing and planning powers from central government to councils and local people, so that they can shape development in their areas
replacing top down targets with powerful cash incentives through the New Homes Bonus, so instead of simply feeling the strain that new building projects place on existing services, communities have a reason to support new development
supporting private sector growth by reducing regulation and other burdens on house-builders
accelerating the release of public sector land with capacity to build up to 100,000 new homes by 2015, and support up to 200,000 construction and related jobs during development.
Notes to editors
Laying the Foundations: a housing strategy for England can be found at: http://www.communities.gov.uk/publications/housing/housingstrategy2011
Using previously-developed land owned by the public sector to deliver new homes could support as many as 200,000 construction and related jobs, 50,000 in every year of the spending review period.
Twitter
Keep up to date with the Department by following us on Twitter (external link).
Media enquiries
Visit our newsroom contacts page for media enquiry contact details.
Published 21 November 2011