New steps to cut the cost of moving home and open up the books
Home buyers can access more information about their new home without having to pay for the information, the government announced today.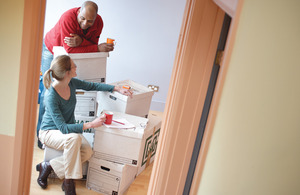 The fixed fee charged for personal searches of councils' local land charges register is to be abolished. Such land searches tell a home buyer about restrictions or issues that affect the property, such as planning conditions, conservation areas and protected trees.
The new government has already suspended costly and bureaucratic Home Information Packs. Today's move will further help reduce costs for home buyers.
The law is now being changed to stop people being charged a £22 fee for a personal search of the Local Land Charges Register. This move is intended to make key environmental information more accessible to the public.
Making sure that this information can be accessed free of charge fits with the government's wider drive for 'open data' to make public sector information more transparent and accessible to the public online. Local councils are in the forefront of this agenda to increase accountability and open up the books.
Housing Minister, Grant Shapps, said:
"Moving home is difficult and stressful, and the new government wants to make it easier. We've already taken steps to scrap Home Information Packs, and now we are cutting the cost of researching the detail about your new home.
"This shows in practice how freeing up public sector data and opening up the books can benefit the whole economy, by cutting transaction costs and increasing competition."
Further information
A 'local authority land search' tells a potential home buyer about potential issues or restrictions affecting the home. For example, if the house is in a conservation area that would limit an extension or if there is a protected tree that cannot be cut down. A 'personal search' is a check of records undertaken by an individual, inspecting the records in person. Until now, legislation under the Local Land Charge Rules 1977 stated that a £22 fixed fee should be charged for this information.
Today's measures are being introduced to ensure compliance with European law because information on the local land charges register is overwhelmingly environmental information. The Environmental Information Regulations say that examination of environmental information on site should be free of charge.
The government is liaising with local councils to provide guidance and assistance on the changes, and to tackle the financial impact. The Local Government Association has been asked to work with government to assess the impact of removing this fixed fee on local authority finances.
The government is also working with councils to see how a whole range of public sector information can be opened up to the public in an open and standardised manner.
Published 29 July 2010