Press release
New speed limit for Sheppey Crossing
A 50mph speed limit has been introduced on the A249 Sheppey Crossing in Kent.
This news article was withdrawn on
This press release is no longer current.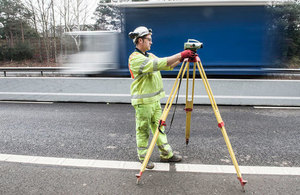 The speed limit has been brought in after the coroner investigating a serious incident on the crossing last July asked Highways England to consider urgent safety measures on the bridge, which is the main link between the M2 at Stockbury and Sheerness.
A Highways England spokesperson said:
Safety is Highways England's top priority. We are fully supporting the inquest into the tragic incident that happened on the Sheppey Crossing last July. The Coroner in the pre-inquest hearing has recommended urgent action. In the interim, before the full inquest has taken place, Highways England has taken the decision to introduce a temporary speed limit on the basis that we need to assess whether such a measure would improve safety. Our objective is ensuring safe and reliable journeys on the A249 and the Sheppey Crossing for the 30,000 drivers who depend on it every day.
The 50mph speed limit is in place in both directions on the A249 between its junction with the B2005 at Grovehurst Rd and the Neats Court Roundabout near Thomsett Way.
The speed limit will be carefully assessed to monitor its effect on road safety and Highways England will continue to keep the safety performance of the A249 under constant review.
General enquiries
Members of the public should contact the Highways England customer contact centre on 0300 123 5000.
Media enquiries
Journalists should contact the Highways England press office on 0844 693 1448 and use the menu to speak to the most appropriate press officer.
Published 22 July 2015