Press release
New social enterprises to receive jump start from government investment
Wayra UnLtd and Bethnal Green Ventures are the first social enterprises to receive backing from the government's £10m Social Incubator Fund.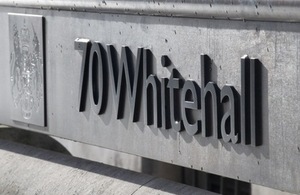 The first awards from the government's £10m Social Incubator Fund have been announced. Speaking at Nesta, Minister for Civil Society Nick Hurd said that Wayra UnLtd and Bethnal Green Ventures would be the first to receive backing.
The fund is designed to provide investment into 'social incubators'; organisations that will offer a period of intensive support to social enterprise start-ups. This will help turn early stage ideas into successful businesses that change lives, by giving social entrepreneurs access to the resources they need to get their ventures off the ground.
Both of the 'incubators' chosen, focus on how technology can unlock the potential of social enterprise in the UK. Bethnal Green Ventures will launch their Social Innovation Camp, which will provide investment, mentoring and office space for start-ups who use technology to solve problems in three key areas:
health and wellbeing of an ageing population
education and employability of young people
environmental sustainability
Wayra UnLtd is a new partnership between UnLtd and Wayra, Telefonica's technology incubator. They will identify up and coming social entrepreneurs who use digital technologies, and accelerate their entry to market by providing investment and technical expertise in a purpose built 'Wayra UnLtd Academy'.
Minister for Civil Society Nick Hurd said:
There is no shortage of social entrepreneurs in the UK with the ideas, passion and talent to create successful businesses that improve lives. We also have a talented and growing technology community in the UK. Increasingly we're seeing these two come together, with innovative entrepreneurs and start-ups harnessing the power of technology to create real change for people and communities.
Paul Miller, Partner at Bethnal Green Ventures said:
Our aim is to provide investment and support to people who really understand social challenges so that they can build social ventures to improve the lives of millions of people. With this backing from the Cabinet Office, Nesta, Nominet Trust and Google Campus we'll be able to do that for twenty new ventures a year, giving more people the opportunity to turn their ideas into reality.
Cliff Prior, CEO of UnLtd and Simon Devonshire, Director of Wayra Europe said:
We are massively proud to celebrate this new partnership to find, support and grow digital social enterprises in the UK. We are also thrilled the government is giving this special partnership its full support and backing. Together we aim to address significant social issues through the use of digital technology combined with entrepreneurial talent.
Round two of the Social Incubator Fund will launch in spring 2013 and will be open to applications from newer social incubators. Those interested in applying for funding can register their interest at socialincubator@biglotteryfund.org.uk by 15th March 2013.
Notes to editor
Nesta (formerly NESTA, National Endowment for Science, Technology and the Arts) is an independent charity that works to increase the innovation capacity of the UK. The organisation acts through a combination of practical programmes, investment, policy and research, and the formation of partnerships to promote innovation across a broad range of sectors.
The Social Incubator Fund aims to help drive a robust pipeline of start-up social ventures into the social investment market, by increasing focus on incubation support, and attracting new incubators into the market. It is being delivered by Big Fund on behalf of the Office for Civil Society (OCS). Round two of this fund will launch in spring 2013 and will be open to applications from newer social incubators. If you are interested in applying for funding you must attend a briefing event. To register your interest and secure a place at the event, please email Big Fund at socialincubator@biglotteryfund.org.uk by 15 March 2013.
Wayra UnLtd is a newly formed partnership betwen 'UnLtd', a leading provider of support to social entrepreneurs and 'Wayra', Telefonica's technology start-up incubator. They have come together to create the "Wayra UnLtd Academy" and will support 30 digitally-focussed start-ups over two years in a purpose-built Wayra UnLtd Academy. Wayra UnLtd will provide seed-funding; coaching and mentoring; work-space; a global network of Academies; fast-track access to influential decision makers; and the potential to unlock the power of 300million Telefónica customers globally.
Bethnal Green Ventures is an accelerator for technology-based social ventures. In partnership with Nominet Trust and Nesta, it will support up to 72 early stage technology start-ups tackling social and environmental problems over the next four years. They will offer in workshops and receive mentoring, legal and administrative support. The ventures will be based in a newly refurbished start-up space at Nesta, Chancery Lane, and will also have use of the Google Campus in Shoreditch.
Published 14 February 2013