Press release
New Shared Services Strategy to deliver millions of pounds of savings to the taxpayer
The Cabinet Office has launched today the Shared Services Strategy for government, which will save the taxpayer millions of pounds by 2028.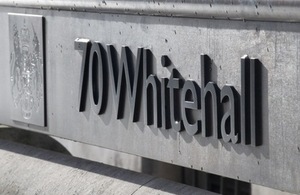 By improving civil servants' interactions with government back office services, the strategy will support a Civil Service, where civil servants can seamlessly move between departments and roles, allowing the Civil Service to deploy what we need to meet the challenges of the day.
The strategy primarily focuses on driving value and efficiency for the taxpayer by moving to the latest cloud technology, promoting simpler back office processes across departments supported by automation, and meeting the needs of end users across the Civil Service, police, and the armed forces. Doing these things will enable a smarter and more flexible back office for the Civil Service.
Once it has been implemented successfully, the new strategy will promote competition between shared services providers in the market, driving both performance for users, and value for the taxpayer by making service providers constantly improve their technology. By making the most of the latest automation, and robotics, we can make sure that civil servants are supported while they deliver public services.
This strategy will be delivered by the newly formed Government Shared Services unit, from within the Cabinet Office, in collaboration with all government departments.
Matthew Coats, Interim Head of Government Shared Services, and Chief Operating Officer of the Ministry of Justice said:
The shared services strategy for government sets clear direction, and I am pleased to have been part of its development. This will be step change in shared services across the government, directly supporting civil servants in their roles, while also contributing significant savings to the public purse.

By allowing civil servants to spend less time doing administration, they can spend more time delivering vital services to the public.
Published 10 January 2018