New Sea King squadron takes over in Afghanistan
857 Naval Air Squadron has handed over responsibility for Sea King airborne surveillance and control duties in Helmand province, Afghanistan, to 854 Naval Air Squadron.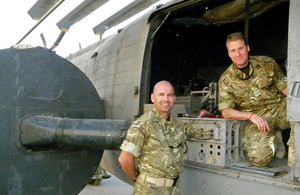 Both squadrons are based at Royal Naval Air Station Culdrose and take it in turns to deploy to Camp Bastion in southern Afghanistan.
Commander Pat Douglas, the Sea King Force Commander, said:
854 Naval Air Squadron are trained and ready to continue with this important task.
857 Naval Air Squadron will now return home for a well-earned period of rest and can do so safe in the knowledge that they have made a positive difference in this ongoing campaign.
The squadrons operate the Mk7 Sea King Airborne Surveillance and Control (SKASaC) helicopter and were originally assigned to operate from aircraft carriers to provide airborne early warning as the 'eyes of the fleet'.
In Afghanistan, some 450 miles (720km) from the sea, the SKASaC Force is employed for land surveillance. The aircraft collect valuable data, which is analysed to build a pattern of life in Helmand province.
Lieutenant Commander Geoff Hayward, Commanding Officer of 857 Naval Air Squadron, said:
Operating a long way from the sea, this maritime helicopter capability has proven to be a tremendous success in helping to stop the flow of drugs and IED components around Helmand.
Its state-of-the-art surveillance radar has provided essential coverage in helping to choke insurgent supplies and has been a key contributory factor in protecting Afghan civilians and coalition troops from the effect of IEDs by assisting in the reduction of availability of the materials to build these lethal devices.
Afghanistan presents a new set of challenges to aircraft engineers more at home on a pitching and rolling deck. Operating so far from the sea, the normal risk of corrosion from salt water is replaced by the challenge of maintaining the Sea King helicopters in the hot and dusty conditions in Helmand.
Reflecting on the coming months in Afghanistan, Lieutenant Commander 'Rex' Harrison, Commanding Officer of 854 Naval Air Squadron, said:
Our sister squadron, 857 Naval Air Squadron, has done a sterling job over the autumn and we are ready to take on the task. My greatest challenge is to maintain the morale of both engineers and aircrew so as to deliver the Royal Navy's unique surveillance capability.
Published 8 December 2010