New scheme will offer hope to millions on housing waiting lists
Housing Minister Grant Shapps has today launched a major new scheme to deliver affordable homes for those in need, providing a potential lifeline…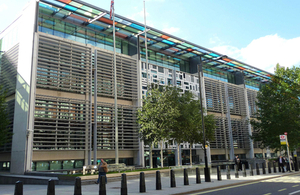 Housing Minister Grant Shapps has today launched a major new scheme to deliver affordable homes for those in need, providing a potential lifeline to some 4.5 million people on social housing waiting lists.
He outlined the next steps in the most radical shake-up of social housing for a generation, with a new Affordable Rent programme giving landlords greater flexibility to meet the individual needs of tenants in their area.
And today, he published the framework for this scheme and encouraged not only traditional housebuilders and housing associations to consider building homes through the new scheme, but also smaller developers looking to expand into housebuilding.
Under the new scheme landlords will be able to offer homes to tenants on fixed tenancies charging a rent of up to 80 per cent of local market rate - one of a number of efforts being made to move away from the 'one size fits all' system of social housing to one where a range of options are available to meet local housing needs. The extra revenue raised from rents would then be invested in building new homes.
Alongside this greater private investment, the Government will also invest £4.5 billion to deliver up to 150,000 new affordable homes over the next four years.
The flexible tenancies will be for new tenants only - the lifetime tenancies and succession rights of existing council and housing association tenants will not be affected.
Mr Shapps today argued that with waiting lists having doubled over the past 13 years, social housing is ripe for reform, and landlords must have greater flexibility to find creative and innovative ways of meeting local housing need.
Housing Minister Grant Shapps said:
With some 4.5 million people on social housing waiting lists, it's clear that not only do we need more homes, but we also need a complete overhaul of the system, to one that offers much more flexibility than the current 'one size fits all' approach.

The new Affordable Rent scheme launched today ticks both boxes. It offers landlords the freedom they need to offer a range of solutions to people's housing needs, while being able to raise extra rents to invest in house-building.

This new scheme will provide new affordable homes which could help some of the millions of families currently on housing waiting lists, let down by a rigid, outdated system that is failing to meet their needs. But this scheme is also part of the most radical reforms to social housing for a generation, vital to ensuring that as many people as possible benefit from this valuable resource.
Pat Ritchie, chief executive of the Homes and Communities Agency (HCA) which is responsible on behalf of Government for funding the new Affordable Rent model, said:
This new way of operating will allow us to do more with less resources, but it will rely heavily on effective working partnerships between local authorities and Providers. The HCA will play a key role in supporting these.

Housing is only one element of the HCA's overall offer to help communities thrive. We will continue to work with our local authority partners in our capacity as enabler, to help them deliver the best outcomes for their communities, and housing is a key part of that.
David Montague, chief executive at London and Quadrant (L+Q), said:
We welcome the new opportunities to extend the range of affordable housing - the new flexibilities offered under the Framework will help to stretch grant when resources are extremely tight.

We want to create innovative new partnerships with local authorities and deliver homes where they need them. We look forward to working in partnership with both Government and local authorities to deliver quality new homes which people can afford.
David Cook, chief executive at Kettering Borough Council, said:
The current housing and mortgage market are particularly difficult. Against that backcloth, we need a clear signal that those areas which deliver growth will be well rewarded.

This scheme provides that signal as well as the means to bring developers, local authorities and, most importantly, communities together to meet housing need.
Notes for editors
The Framework for the Affordable Homes Programme 2011-15 has been published today by Department for Communities and Local Government and the Homes and Communities Agency and can be found at: www.homesandcommunities.co.uk/affordable-homes (external link).
2. Decentralisation Minister Greg Clark has also published today a consultation to include the definition of Affordable Rent as part of Planning Policy Statement (PPS) 3 - Affordable housing. The deadline for comments is 11 April 2011, and the consultation can be found at: www.communities.gov.uk/publications/planningandbuilding/pps3annexconsultation.
Government will be investing £4.5 billion to deliver up to 150,000 new affordable homes over the next four years, including £1.8 billion through the new Affordable Rent Model.

For those tenants eligible to receive it, Housing Benefit will continue to underpin their affordable rent payments.

The existing inflation-linked formula for annual rent increases in social rented housing will continue to apply throughout the 2011-15 Affordable Homes Programme, as part of the Government's rent restructuring policy.
Twitter
Keep up to date with the Department by following us on Twitter (external link).
Media enquiries
Visit our newsroom contacts page for media enquiry contact details.
Published 14 February 2011