News story
New rules to hand over powers to individuals and companies by cutting red tape and bureaucracy
The measures will help transform the relationship between people and government by changing how regulations are drawn up, introduced and implemented…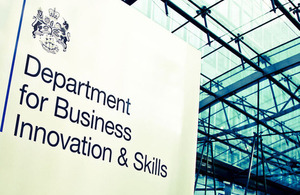 The measures will help transform the relationship between people and government by changing how regulations are drawn up, introduced and implemented.
People are already being encouraged by the Government to nominate laws or regulations they want to see scrapped, and today's announcement means that government interference in businesses and third sector organisations will have to meet much more rigorous tests before being introduced.
From 1 September, a groundbreaking new One-in, One-out system will begin. When Ministers seek to introduce new regulations which impose costs on business or the third sector, they will have to identify current regulations with an equivalent value that can be removed.
The new rule has been designed to apply initially to domestic legislation affecting businesses and the third sector, with Ministers intending to expand the system in due course. To reinforce this radical new approach to how Whitehall will introduce new laws and regulations, and to ensure that the costs of red tape are being properly addressed across the entire British economy, the Government has also:
agreed a set of Principles of Regulation that Government departments must apply when considering new regulations impacting upon business, social enterprises, individuals and community groups;

asked the independent Regulatory Policy Committee to perform the role of externally scrutinising the evidence and analysis supporting new regulatory proposals, prior to policy decisions being made. It will also analyse proposals for the implementation of EU legislation. In doing so, the RPC will help drive up the accuracy and quality of Impact Assessments; and

provided the opportunity for the public and businesses to tell the Government which onerous regulations they believe should be removed or changed through the Your Freedom website, launched last month by the Deputy Prime Minster.
Ministers will also be taking a rigorous approach to tackling EU regulations and gold plating. The Government will engage earlier in the Brussels policy process; take strong cross Government negotiating lines; and work to end so-called 'gold-plating' of EU regulations so that when European rules are transposed into UK law it is done without putting British business at a competitive disadvantage to other European-based companies. __
Business Secretary Vince Cable said:
"Together these measures represent a fundamental shift in how Whitehall has traditionally used regulation as a way to command and control.
"We have to move quickly delivering credible and meaningful reductions in the burdens that hinder hard-pressed businesses and charities. We have to create a common sense approach in the way we think about new laws.
"By ensuring regulation becomes a last resort, we will create an environment that frees business from the burden of red tape, helping to create the right conditions for recovery and growth in the UK economy."
**Notes to editors **
1) The Government will stress-test regulatory proposals making sure that only those of suitably high quality (for example meeting the new principles of regulation and One-in, One-out) and suitably high priority proceed.
2) One-in, One-out is a regulatory management system, whereby any new regulatory cost is compensated by cuts to the cost of old laws. It will start from 1 September; Ministers seeking to introduce new regulations which impose costs on business or the third sector will have to identify current regulations with an equivalent value that can be removed.
3) One-in, One-out will capture the net cost to business of any given measure. This means that the benefits to business will be offset against the costs to business.
4) Regulations in response to emergencies and to address systemic financial risks will be excluded from the One-in, One-out system.
5) The Regulatory Policy Committee was established at the end of 2009. It has previously taken an advisory role, commenting on whether Government departments had been effective in minimising the costs of measures and maximising the benefits of regulation, and on whether the benefits justify the costs.
6) The Better Regulation Executive, at the Department for Business Innovation and Skills, is responsible for implementing the regulation agenda, working across government to improve the way new laws and regulations are created, reduce unnecessary red tape and provide the best environment for business to start up, flourish and grow.
7) The Your Freedom website at www.hmg.gov.uk/yourfreedom is an opportunity for anyone to suggest ideas on restoring liberties that have been lost, repealing unnecessary laws and stripping away excessive regulation on businesses.
---
---
BIS' online newsroom contains the latest press notices, speeches, as well as video and images for download. It also features an up to date list of BIS press office contacts. See [http://www.bis.gov.uk/newsroom](http://www.bis.gov.uk/newsroom) for more information.
Notes to Editors
Contact Information
Name BIS Press Office Job Title
Division COI Phone
Fax
Mobile
Email NDS.BIS@coi.gsi.gov.uk
Name Nick Evans Job Title
Division Department for Business, Innovation and Skills Phone 020 7215 3496 Fax
Mobile
Published 5 August 2010