New rules to ensure fair play on planning
Government issues new planning guidance on traveller sites Local Government Minister Bob Neill has published a radically streamlined planning…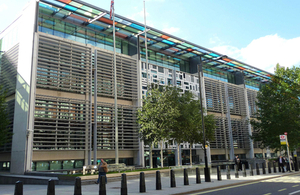 Government issues new planning guidance on traveller sites
Local Government Minister Bob Neill has published a radically streamlined planning policy that will ensure fair treatment of travellers in the planning system while respecting the interests of the settled community.
Condensing the previous 54 pages of traveller site guidance into just eight pages, the new policy puts the provision of sites back into the hands of local councils, in consultation with local communities.
Ministers believe planning rules have seriously harmed community relations over the last few years, by imposing top-down targets for traveller sites on local councils, increasing the number of unauthorised sites, and compelling councils to encroach onto the Green Belt. At the same time ministers believe that policy introduced under the previous administration created a perception of special treatment for some travellers undermining the notion of 'fair play' in the planning system and further harming community cohesion.
The Government is committed to the protection of the nation's green spaces and this policy will protect Green Belt land and countryside. Traveller sites are an inappropriate development on Green Belt land and the new guidance makes clear that there should be due regard for the protection of the local environment and amenities when local authorities set out their criteria for allocating sites.
The new measures continue the Government's policy of abolishing top-down targets set by central government. Previously the Government has abolished the architecture of regional planning tiers through the Localism Act to prevent any more regional strategies being created and set out measures in the Localism Act to provide stronger enforcement powers for local authorities to tackle unauthorised developments and abuse of retrospective planning permission.
The new planning policy also gives councils the freedom and responsibility to determine the right level of traveller site provision in their area, in consultation with local communities, while ensuring fairness in the planning system.
The result of these changes will reduce tensions between settled and traveller communities whilst enabling provision of accommodation from which travellers can access education, health, welfare and employment infrastructure.
Mr Neill said:
Top-down targets from central Government failed to provide adequate land for travellers and caused tensions with the local settled community. People want to see fair play in the planning system, treating everyone fairly and equally.

These new policies will allow local authorities to govern their own affairs whilst ensuring that both travellers and the settled communities get a fair deal through the planning system.
The new policy forms part of a broader package, including changes to planning law to limit retrospective planning applications for any form of unauthorised development and the provision of incentives for new and refurbished traveller sites, which will deliver a better balance between site provision and enforcement.
The Government has also been looking at the inequalities faced by traveller groups and will shortly be publishing a report from the Ministerial Working Group.
Notes to editors
The full planning policy for traveller sites can be found here: www.communities.gov.uk/publications/planningandbuilding/planningpolicytravellers.

The Government's key aims in respect of traveller sites are:
that local planning authorities should make their own assessment of need for the purposes of planning;
to ensure that local planning authorities, working collaboratively, develop fair and effective strategies to meet need through the identification of land for sites;
to encourage local planning authorities to plan for sites over a reasonable timescale;
that plan-making and decision-taking should protect the Green Belt from inappropriate development;
to promote more private traveller site provision while recognising that there will always be those travellers who cannot provide their own sites;
that plan-making and decision-taking should aim to reduce the number of unauthorised developments and encampments and make enforcement more effective;
for local planning authorities to ensure their local plan includes fair, realistic and inclusive policies;
to increase the number of traveller sites in appropriate locations with planning permission, to address under-provision and maintain an appropriate level of supply;
to reduce tensions between settled and traveller communities in plan-making and planning decisions;
to enable provision of suitable accommodation from which travellers can access education, health, welfare and employment infrastructure; and
for local planning authorities to have due regard to the protection of local amenities and the local environmental.
The Department has previously announced the inclusion of traveller sites in the New Homes Bonus to reward councils that deliver additional sites. This means that councils will get financial benefits for building authorised traveller sites where they are needed. The Department has also secured £60 million Traveller Pitch Funding to help councils and other registered providers build new traveller sites. Successful bids totalling £47 million were announced in January, helping to provide over 750 new and refurbished pitches for travellers.
Twitter
Keep up to date with the Department by following us on Twitter (external link).
Media enquiries
Visit our newsroom contacts page for media enquiry contact details.
Published 25 March 2012