News story
New research into high cost credit commissioned by Government
Following the launch of a Review of the consumer credit and personal insolvency regimes last year, a substantial number of submissions to the…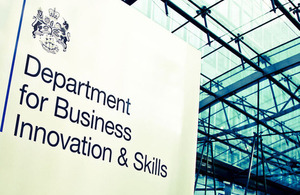 Following the launch of a Review of the consumer credit and personal insolvency regimes last year, a substantial number of submissions to the review asked the Government to consider a cap on the total cost of credit that can be charged in the high cost credit market. Unfortunately there was little hard evidence as to the impact this proposal might have and we believe that additional research is required before we can make a thorough assessment of what the impact might be both on the high cost credit industry and on those consumers who rely on this market to obtain credit. __
Consumer Minister Edward Davey said:
"This Government is committed to improving how people access and use credit. But if we're to have a comprehensive understanding of this, we need research into how a cap could affect consumers. I want to know what the impact of introducing this kind of cap might be. We know that intervening in the high cost credit market carries risks that we will make things worse for those we are trying to help. We do not want to force people into the arms of the loan sharks so we need robust evidence of what the impact of this proposal might be before we decide if action is required.
Financial Secretary to the Treasury Mark Hoban said:
"We've commissioned this research to help identify how to better protect consumers in the high cost credit market. Policy needs to be based on hard evidence to avoid any unintended consequences which may be harmful for consumers. But lenders need to remember they have a responsibility to help customers and treat them fairly - and not push them further into debt."
The Government is determined that the most vulnerable in society should get the best advice on their finances possible. To that end, the Money Advice Service has agreed to perform a central role in the coordination of debt advice, and Government has asked them to research and develop a delivery model for that debt advice. It will receive £950,000 from BIS to support the development work.
The Review also covered three Coalition Commitments dealing with unfair bank charges, cooling off periods for store cards and interest rate caps on credit and store cards. The Government has published the summary of responses on these three issues today and will set out how we intend to meet these commitments in the autumn.
Notes to editors:
---
Notes to Editors
Contact Information
Name BIS Press Office Job Title
Division COI Phone
Fax
Mobile
Email NDS.BIS@coi.gsi.gov.uk
Name Olivia Campbell Job Title
Division Department for Business, Innovation and Skills Phone 020 7215 5363 Fax
Mobile
Published 19 July 2011