New Reaper aircraft provides extra support to operations in Afghanistan
An extra Reaper remotely-piloted aircraft has arrived in Afghanistan, increasing support to troops.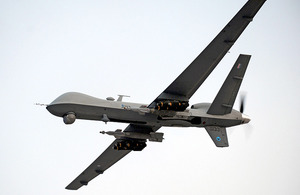 This latest addition to the Royal Air Force's Reaper fleet will allow 39 Squadron to fly multiple Reaper aircraft at any one time over Afghanistan.
A total of 36 hours of video surveillance can now be delivered in support of troops on the ground every day of the year, which marks an 80 per cent increase over the past 12 months.
Reaper has been supporting ground forces in Afghanistan since October 2007 and has now flown over 13,000 hours in direct support of operations. It provides commanders with a constant 'eye in the sky' that can seek out and track insurgent activity around patrols, search for potential IEDs, and provide an armed response if required.
One of the Reaper pilots said:
My background is flying support helicopters on the battlefield, but I have never felt more connected to the heart of the battle on the ground than when I'm flying the Reaper.
When you're speaking to a soldier on the ground for hours at a time, night after night, looking around every corner for him, scanning every tree line and reacting every time his guys take fire, you feel like you really are fighting alongside him.
You can hear the palpable relief in the voices of the guys as we call them up on the radio and check in to provide them with defensive cover and a heavily armed response if called upon.
It's the most rewarding mission I've had the opportunity to complete in the RAF.
The Reaper has a 66-foot (20m) wing span and is powered by a turboprop engine that allows it to stay in the air for more than 16 hours at a time. It carries a multi-spectral targeting system, more commonly referred to as 'the ball', which, day and night, collects video from thousands of feet above insurgents, where it is undetectable. The aircraft also carries Hellfire missiles and laser-guided bombs, the release of which remain under the full control of the Reaper pilots on the ground.
Defence Secretary Dr Liam Fox said:
The arrival of this new aircraft demonstrates our ongoing commitment to ensuring that our troops on the front line get all the equipment that they need.
Reaper continues to play a vital part in our air power capability in Afghanistan and there is no doubt that this cutting-edge technology is saving lives.
Published 20 September 2010