Press release
New randomised controlled trials will drive forward evidence-based research
Randomised controlled trials (RCTs) will raise the bar in education and children's services by increasing the use of quantitative evidence.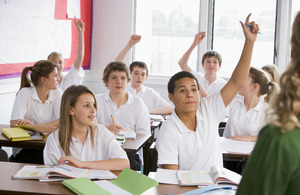 The Department for Education today announced it would run 2 new RCTs.
RCTs are most often associated with medicine but their use in other fields, including education, remains relatively low.
The decision to run the trials follows recommendations made by 'Bad science' author Dr Ben Goldacre in a report which examined the role of evidence in the education sector. The report was commissioned by Education Secretary Michael Gove and published in March 2013.
Dr Goldacre said high-quality research into different approaches should be embedded as seamlessly as possible into everyday activity in education. He said this would not only benefit pupils but increase teachers' independence. Drawing on comparisons between education and medicine, he said medicine had 'leapt forward' by creating a simple infrastructure that supports evidence-based practice, making it commonplace.
The 2 RCTs announced today are on school attainment in mathematics and science and Safeguarding Assessment and Analysis Framework (SAAF) child protection assessment tool.
School attainment in mathematics and science
This project will see 480 schools shown how their pupils' maths and science exam results fit against those of schools with similar intakes. Participating heads and teachers will then be able to compare and collaborate to raise standards. The project is led by the Institute of Education and funded through the Department for Education Research Centre, the Centre for Understanding Behavioural Change (CUBeC). The project will start later this month and will report in summer 2015.
Safeguarding Assessment and Analysis Framework (SAAF) child protection assessment tool
SAAF will be randomly assigned to social workers in trial areas. Their child protection results will then be compared with those using alternative existing approaches. The first outputs are expected in spring 2015.
Education Secretary Michael Gove said:
We need more hard evidence in the education debate. We also need to develop a better understanding of what counts as effective social work. Randomised controlled trials offer us the opportunity to establish which policies genuinely help children. I am delighted the DfE is embracing a more rigorous approach towards evidence.
The Department for Education has already announced funding for the National Centre for Excellence in the Teaching of Mathematics (NCETM) to develop a 1-year professional development programme to improve the standard of maths teaching among pupils aged 11 to 14 years. The trial will be accompanied by a robust independent evaluation, possibly including a RCT.
The National College for Teaching and Leadership is also encouraging teachers with a track record of reducing the attainment gap to put forward their best strategies for rigorous testing, using research methods including RCTs. The £4 million research scheme 'Closing the gap: test and learn' was launched earlier this year. It will see a number of strategies analysed to establish which are the most effective and could be replicated across the country. It is anticipated that up to 1,000 schools and many more teachers could be involved in the project. Initial findings are due to be published next year.
The Department for Education has also allocated £135 million to the Education Endowment Foundation (EEF) to improve quantitative data available in education. The EEF has funded more than 55 successful projects covering both primary and secondary schools, many of which use RCT methodology.
The EEF's main aims are:
to fund innovative approaches and interventions to raise the attainment of disadvantaged pupils in underperforming schools
to robustly evaluate all funded activities
to share the results with schools and others in an accessible ways
The Department for Education has also today published its analytical review, conducted by Dr Ben Goldacre and Roger Plant, Director of So Direct Ltd. The review looks at the role of research, analysis and data in the Department for Education, schools and children's services in England. The chapter by Dr Goldacre was published in March 2013.
The recommendations from Dr Goldacre and Roger Plant on how data can be used and shared to improve outcomes have been welcomed by the Department for Education.
Dr Ben Goldacre said:
Policy and practice are hugely improved when we use good quality evidence to help inform our decisions.

Randomised controlled trials are often the best way to find out which interventions work best. They are used extensively in other countries, and in other fields, so it's great to see the UK moving forward. But the real prize is bigger than isolated trials, no matter how informative those may be.

We need a slow revolution that puts evidence at the heart of teaching, identifying and answering questions that matter to parents, teachers, and children.
Roger Plant said:
Collecting and sharing data is essential to building effective evidence based management of education. However, data and related systems are sometimes seen as a burden rather than as a support for improvement. I'm pleased that the Department [for Education] has accepted the principles of my recommendations and is working to find ways to collect and share information more efficiently, without making it more burdensome on schools.
More information on the Department for Education analytical review is available from the publications section.
DfE enquiries
Central newsdesk 020 7783 8300
General enquiries 0370 000 2288
Published 3 May 2013