New RAF C-17 aircraft touches down in the UK
A new C-17 transport aircraft has been unveiled today by the Defence Secretary at RAF Brize Norton in Oxfordshire.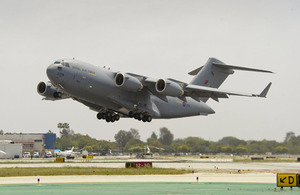 Philip Hammond welcomed the £200m aircraft which arrived in the UK this week from Boeing's production plant in California, USA.
This aircraft is the eighth C-17 in the RAF's fleet. Known as 'the workhorse of the RAF', they play a vital role in sustaining the UK's airbridge with Afghanistan - carrying supplies and passengers into and out of the country.
C-17s can fly for more than 4,500 nautical miles (8,334km), meaning they can fly directly from Helmand province to the UK.
As well as transporting troops and equipment, C-17s can also be converted rapidly to offer intensive care provision in support of the aeromedical airbridge.
Mr Hammond said:
These aircraft provide vital support to our mission in Afghanistan and this latest addition to the RAF fleet will further strengthen the airbridge between Britain and the front line. Its giant frame can carry three Apache helicopters or a Chinook helicopter.
We are proceeding with major equipment programmes with renewed confidence now that the MOD's core equipment programme is fully funded and affordable.
The Defence Secretary was joined at RAF Brize Norton today by the Chief of the Air Staff, Air Chief Marshal Sir Stephen Dalton, who said:
The C-17, since being brought into service, has provided a step-change in the Royal Air Force's air transport capability, strengthening the airbridge to Afghanistan as well as being deployed around the world on operations and providing humanitarian and disaster relief assistance.

The Royal Air Force's C-17 fleet, together with Voyager and the A400M aircraft, will be the mainstay of the Royal Air Force's Air Transport Force for the next decade on the transition of our venerable TriStar and VC10 aircraft.
I am immensely proud of the outstanding contribution that Royal Air Force personnel are making to the continued progress in Afghanistan, be it in the air or on the ground. Their commitment and performance are in the finest traditions of the Service.
The C-17's huge capacity means it can carry loads weighing up to 70 tonnes - equating to three Warrior armoured vehicles, or even a Tornado fast jet.
As well as their Afghanistan role, the aircraft have been deployed to help with humanitarian and disaster relief efforts around the world. The C-17 fleet provided assistance during the aftermath of the Indian Ocean tsunami, as well as after the Pakistan and Chilean earthquakes.
Since entering service with the RAF in 2001, C-17 aircraft have logged more than 60,000 flight hours.
Published 24 May 2012