Press release
New protections if care providers fail
New measures to protect people who rely on care services in the event of a provider failure like Southern Cross have been set out by Care and…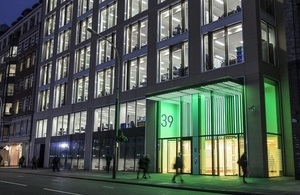 New measures to protect people who rely on care services in the event of a provider failure like Southern Cross have been set out by Care and Support Minister Norman Lamb today.
A tough system of checks on the finances of the largest care companies is proposed to give early warning of problems and to challenge financial models which could be unsustainable or compromise quality. Under these proposals the Government would introduce regulation of major care providers and if a provider failed there would be plans to support a well-managed exit.
The plans announced today aim to protect those being cared for should another Southern cross happen.  They include measures to:
oversee financial performance of providers and to challenge business models to make sure they can support the delivery of quality care services;
ensure** **businesses develop plans to recover from financial distress and to provide a regulator with information to develop contingency plans with local authorities for continuing care in the event of a failure
coordinate and communicate with local authorities and relevant parties in the event of failure to ensure people's care and support needs continue to be met.
A 12 week consultation on the plans launches today to gather the views of the care providers, service users, investors and others from the social care sector.
Care and Support Minister, Norman Lamb, said:
"We want to make sure every person receiving care and support will continue to get the care they need if a provider exits the market, regardless of whether they are paid for by the state, or pay for care themselves.
"Southern Cross demonstrated that we need greater oversight of providers' finances and better plans to support people if their independent provider goes out of business. We want to make sure care providers have plans in place to get their finances back on track and if this is not possible then a co-ordinated exit from the market happens.  This will mean care service users know their needs will continue to be met."
These proposals are designed to provide better oversight for the largest businesses which often operate across the country. Smaller providers regularly exit the market for various reasons and local authorities make sure that local people are looked after. However, this is more difficult to do when providers operate on a larger scale.  The government proposes to introduce central oversight to help local authorities in the event of major failure.  The Government is also separately looking at other proposals to make sure individual management and boards are accountable for quality.
The Department of Health is asking people to respond to its plans by visiting the website and commenting on its proposals. If these proposals are taken forward, the legislation would come into force with the Care and Support Bill.
Notes to Editors:
 For media enquiries contact the Department of Health news desk on 020 7210 5221.
More information about Care and Support can be found on the Department of Health website.
Published 1 December 2012