News story
New proposals to tackle crimes at sea
International Maritime Organization agrees proposal to develop guidelines addressing concerns related sea crimes.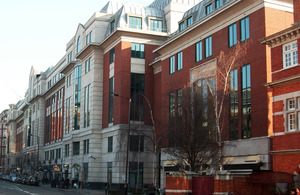 The United Nations' International Maritime Organization (IMO) has agreed to a proposal put forward by the United Kingdom, Cruise Lines International Association (CLIA), and the Philippines to develop guidelines to address concerns related to alleged serious crimes and persons missing at sea. All 24 delegations that spoke after the proposal had been presented expressed their appreciation and supported it without exception.
Building upon an earlier proposal from CLIA, the United Kingdom led a coalition of government and industry stakeholders in support of the proposal.
Shipping Minister, Mike Penning said:
Taking a cruise should be a safe and enjoyable experience. However we have been reminded in recent years that crime exists at sea as it does on land, and we should be certain that there are effective mechanisms in place to respond to this. I am grateful to those at the IMO, our partners CLIA and the Philippines for their help in making such valuable progress. I would now urge all other flag states to get behind this important proposal.
CLIA President and CEO, Christine Duffy, said:
CLIA greatly appreciates the extensive leadership and commitment of Minister Penning, the United Kingdom, and the Philippines in advancing this important proposal to governments.
Key elements of the proposal included: preservation of evidence; medical and pastoral care for victims; effective and timely reporting to governments; and cooperation between governments with regard to investigations.
The technical work necessary to complete the guidelines will begin immediately and will be led by the United Kingdom who will work with other Member States of the IMO to ensure that the development of guidelines are proportionate for different ships types and without excessive burden to the Master and crew, a crucial element will be consultation and input from CLIA and other organizations with specialized expertise and consultative status within the IMO.
Further information
The International Maritime Organization (IMO) is the United Nations specialised agency responsible for the safety and security of shipping and the prevention of marine pollution by ships.
Cruise Lines International Association (CLIA) is the world's largest cruise association and is dedicated to the promotion and growth of the cruise industry. CLIA is composed of 26 of the major cruise lines serving North America and serves as a non-governmental consultative organization to the International Maritime Organization. CLIA's mission is to promote policies and practices that foster a safe, secure and healthy cruise ship environment; educate and train its travel agent members; and promote and explain the value, desirability and affordability of the cruise vacation experience.
The UK government and CLIA remain fully committed to the issue of crimes at sea and will now, led by the UK, engage with IMO Member States and other organizations with specialized expertise and consultative status within the IMO to develop guidelines that are proportionate and suitable for all ship types and size and which do not impose excessive burden on the master and crew.
Maritime media enquiries
Media enquiries 020 7944 3021
Out of hours media enquiries 020 7944 4292
Switchboard 0300 330 3000
Published 20 April 2012